Villa Soldati
Villa Soldati is a poor, working-class neighbourhood, with almost half of its residents living in a public housing development called Barrio Soldati.
Villa Lugano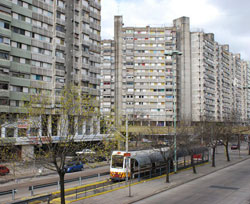 The economic status of the population of Villa Lugano ranges from fairly well-off to poor. Many of the residences here are tall apartment buildings for lower-income families. Not far from these are a few large colonial-era houses, remnants of days gone by, near the train station. Those who can afford it live in residential neighbourhoods with large gardens. Villa Lugano also has several "villas de emergencia", or shantytowns.


Villa Riachuelo
The somewhat artsy Villa Riachuelo has cobblestoned streets and modest but colourful homes. Some of its old houses and apartment buildings have been renovated to make them more liveable or to turn them into office space.
Villa Riachuelo is a favourite filming location for Argentine moviemakers.
---