Flores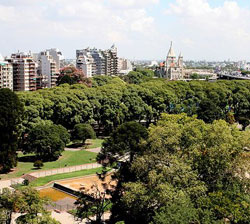 Flores was considered a rural area of the Province of Buenos Aires until 1888 when it was integrated to the city. As such, most houses built here were country homes of the Buenos Aires elite, and some of which remain today as cultural attractions (a splendid example is the house of Juan Manuel de Rosas, the province's governor in the 19th century). Today, Flores is a middle-class neighbourhood marked by several streets and avenues. Flores' commercial area is close to its railway station.
Parque Chacabuco
Parque Chacabuco is centred around the park of the same name. A quiet green space on weekdays, on Saturdays and Sundays residents converge on it for games of soccer, picnics, even shopping (vendors set up temporary shop here). The neighbourhood is dog-friendly, so residents take their dogs out for a stroll in the park often.
Homes in Parque Chacabuco are mostly small houses and low apartment buildings. Its main commercial street, the Avenida Asamblea, is lined with stores and food stalls all the way to the park.
---