Caballito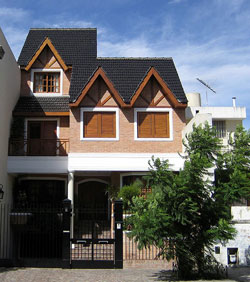 Caballito's commuters are serviced by Subway Line A, which was inaugurated in 1913 as the city's first subway line. The Historical Tramway Museum of Buenos Aires is fittingly located here as well. Aside from this home of vintage railway ephemera, the barrio also features many other cultural attractions.

Visitors are charmed by strolling through the old English District with its rows of antique homes built in the British turn-of-the-century style. The old Mercado del Progreso still stands, and has not waned in popularity among the locals since its founding in 1890. The Portuguese Club and the Italian Club are also situated here, almost in homage to Buenos Aires' most established settlers. The grounds of the University of Buenos Aires' Philosophy and Literature faculties are located in Caballito. The Ferro Carril Oeste Football Club, also known as Verdolaga, is also here.
Although green spaces are sparse in this area, Caballito's residents frequent the Parque Rivadavia on Rivadavia Avenue, and the Parque Centenario.
---