Barracas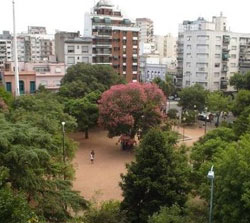 In the early 20th century, Barracas was the home of some of Buenos Aires' wealthiest families. A yellow fever epidemic caused its original inhabitants to relocate, and many immigrants (particularly Italians) settled in the area.

Barracas transformed itself into a bustling working-class district of factories and markets, and it was among these busy streets that the tango, Argentina's national dance, was born.

When industry slowed and factories were closed in the latter part of the century, a motorway was built, and the neighbourhood was transformed once again. These days Barracas is admired for its modern buildings and museums still bearing their impressive original façades.
La Boca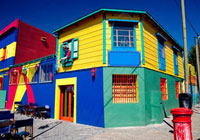 La Boca is one of Buenos Aires' most famous barrios, visited by football fans from around the world. The neighbourhood is the home of the famous La Bombonera stadium, and the home turf of the Boca Juniors, one of the world's top football clubs.

La Boca has a reputation as a distinctive and very colourful area. Visitors feast their eyes on the explosions of colour provided by the many antique conventillos (tenement houses preserved from the 19th century immigrant wave) with their brightly painted facades and tin roofs. The area has a strong artistic vibe, particularly along the famous Caminito. Patronized by local artists, this picturesque street is full of museums, art galleries, and performing tango artists.
Other attractions in the neighbourhood include the La Ribera Theatre, numerous Italian taverns, and the shore of the Riachuelo, an inlet of the Rio Plate.
Parque Patricios
Parque Patricios is named after its park, but the place is hardly tranquil and green. It is an industrial area, with many factories contributing to the area's pollution. Several hospitals and an old prison are here too. Many of Parque Patricios' residents live in conventillos—homes that rent out rooms.
Nueva Pompeya
The industrial, working-class neighbourhood of Nueva Pompeya has one of the largest slums in Buenos Aires. Where there aren't slums, there are small, modest homes. Despite its impoverished state, though, it is just as vibrant as any other part of Buenos Aires. A bird market opens by the railway station every Sunday, and the neighbourhood's tango tradition—many of the earliest tangos were created and performed here—lives on.
---