Balvanera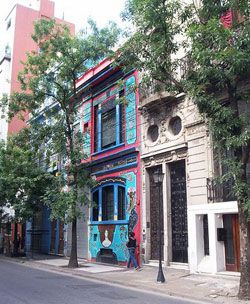 North of the elegant neighbourhood of Recoleta is busy, crowded Balvanera. It is centred around the church of Nuestra Senora de Balvanera, the neighbourhood's namesake. Balvanera has a lot of historic old buildings, but most of its residents live in apartment buildings built on small lots. While green spaces dot the landscape, they are insufficient considering the large population density in this area. Balvanera has a Jewish community that is prominent in the district's economic life.

Former President Bernardino Rivadavia's mausoleum is located in the zone around Corrientes Avenue, also known as Plaza Miserere (or alternatively, as Plaza Once de Setiembre). The Congress building and the Plaza de los Dos Congresos (simply called Plaza Congreso) are situated in the southeastern part. Balvanera's northwest, known as Abasto, was the site of the landmark Abasto market, which has now been converted into a shopping mall. There are also a lot of stalls in the streets.
San Cristobal
Once defined by its large country houses and farms, San Cristóbal is now populated by conventillos, or small houses that rent out rooms. The neighbourhood has slum areas now, though its heart is still its historic church, the Iglesia de San Cristóbal . With the building of the new expressway through it, San Cristóbal is now more a place to pass through than to visit.
---