Villa Ortuzar
Villa Ortuzar has two faces: the more prosperous one in the northwestern part of the neighbourhood, between the roads of Los Incas and La Pampa. Here, large houses with gardens and tall apartment buildings can be seen. In the other half of the district are smaller houses and low buildings.  
Chacarita
Chacarita is a quiet, somewhat run-down neighbourhood of old homes, row houses and apartment buildings. The barrio also has a well-known cemetery, next to the train station, in an area where a lot of great restaurants are also located.
Villa Crespo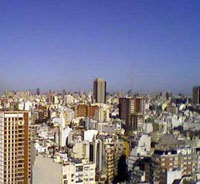 The central barrio of Villa Crespo was one of the earliest neighbourhoods to go up in the city. It grew around a shoe factory that employed many of its earliest residents. Many of these were immigrants, and the neighbourhood still has a Jewish community, and has synagogues and Hebrew schools.

Today, Villa Crespo is a middle-income neighbourhood, with not a lot of green areas. Its commercial area is along the Avenida Raúl Scalabrini Ortiz, which goes through the district.  There are several development projects underway in Villa Crespo.
La Paternal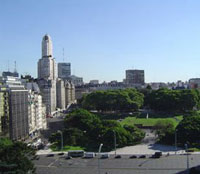 Once an industrial zone, the district of La Paternal is now a residential barrio consisting mainly of condominiums, apartment buildings and single-faimly homes. It also has several casas chorizos—small houses with rooms connected to each other like sausage links. Its claim to fame is its stadium, where football great Diego Maradona first played and was discovered as a teenager as a member of the Argentinos Juniors.

Its main street, Avenida San Martin, is a busy commercial area.
Agronomia
One of Buenos Aires' oldest areas, Agronomía is a lightly-populated area of old, one- and two-storey houses and winding streets. It was named after the University of Buenos Aires' Agronomy School, which is in the neighbourhood, along with the school's meteorological station.
Agronomía has a park and several apartment blocks.
Parque Chas
Buenos Aires' smallest barrio, Parque Chas has two small parks and a web-like grid plan: its streets form circles around a six-point intersection. It's easy for visitors and even cab drivers to get lost in this configuration.
---