Palermo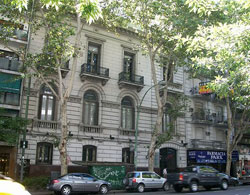 Palermo is, without a doubt, the most fashionable district in the whole of Buenos Aires. It's the neighbourhood to see and be seen in. Once a quiet neighbourhood of tree-lined streets and low, Spanish-style houses, Palermo's affordable rent prices in the mid 1990s attracted artists, designers, architects, and movie producers, who took over the area and transformed it into the trendiest district in town. Most of its original edifices have been converted into galleries, boutique hotels, and unique little shops, gaining a comparison between Palermo and Manhattan's SoHo district. The neighbourhood is quite large, and is subdivided into seven highly-individualized areas: Alto Palermo, Villa Freud, Palermo Viejo, Palermo Soho, Palermo Hollywood, Palermo Chico, and Barrio Parque.
Alto Palermo and Villa Freud
The stomping ground of style mavens, Alto Palermo and Villa Freud make up this neighbourhood's main shopping area and transport hub, particularly around the Avenida Santa Fe. Alto Palermo is actually downtown Palermo.
Villa Freud, true to its name, has a number of psychologists and psychoanalysts' residences and offices—psychoanalysis is extremely popular in Argentina.
Palermo Viejo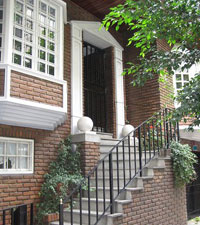 As its name implies, this is the oldest part of Palermo, and the one which has retained the original feel of this once quiet neighbourhood. Most buildings in Palermo are modern high-rises, but in Palermo Viejo the original Spanish-style houses are preserved. Since the developmental explosion in the area, these old structures have been reincarnated as some of the trendiest bars and restaurants in Buenos Aires.

However, way before it became hip, some of history's luminaries lived in Palermo Viejo, including Jose Luis Borges and Che Guevara. Borges supposedly began writing poetry in this very ward.
Palermo Soho
Belonging to the Palermo Viejo area around the Plaza Serrano (officially called Plazoleta Cortazar) is the newly-developed "micro barrio", Palermo Soho. This area is frequented by young, upper-middle-class Argentines and tourists who crave the alternative, bohemian scene its cafés, boutiques, and restaurants provide. The heart of Buenos Aires' modern street culture beats resoundingly in this area of the neighbourhood.
Palermo Hollywood
Palermo Hollywood came to be known as such after a number of television and radio producers moved into the zone between Córdoba, Santa Fe, Dorrego, and Juan B. Justo Avenues in the mid-1990s. These days, it is mostly frequented for its numerous fashionable restaurants, bars, and coffee shops.
Palermo Chico and Barrio Parque
Perhaps the most exclusive spot in the most happening neighbourhood in Buenos Aires is Palermo Chico. Here, the Buenos Aires Museum of Decorative Arts is fittingly situated in an old, grand house. Palermo Chico is situated near important institutions such as the American Embassy.
Its neighbour, Barrio Parque, is a strictly residential area whose winding streets are populated by the pied-à-terres of many wealthy and famous locals. Where grand mansions built on spacious private parks once stood are luxury condominiums and apartment houses. The Paseo Alcorta shopping centre and the Museum of Latin American Art in Buenos Aires are in Barrio Parque.
---