Belgrano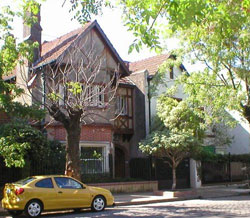 This upper-middle class neighbourhood can be divided into four areas: Belgrano C, Belgrano R, Central Belgrano, and Lower Belgrano (Bajo Belgrano). Its main thoroughfare, Avenida Cabildo, is a main shopping destination for city locals who come in droves on weekend afternoons to visit its specialty shops, bookstores, boutiques, and grocery stores, or to pass the time in cozy corner cafés and cinemas. Also clustered around the leafy areas of the avenue are luxury high-rise apartment buildings, and the private liberal arts university, the Universidad de Belgrano. This area has the highest housing density in the neighbourhood.
Situated west of Cramer Avenue, Belgrano R is lower in housing density and is comprised chiefly of homes on quiet streets against the serene backdrop of large, shady trees. Most residents of this area are wealthy Argentines and expatriate businesspeople who live in detached single-family homes in Anglo-Saxon architectural styles, most with sizable backyards and swimming pools.
In addition to its large base of European immigrants, Buenos Aires also has a sizeable Asian-Argentine population. The city's own Chinatown, packed with restaurants and specialty stores, is in Belgrano C.
Buenos Aires has placed ordinances forbidding more than 10 dogs to a person, but in Belgrano, dog-lovers abound. It is not uncommon to see owners crowding sidewalks with their numerous dogs (who in turn, leave many unpleasant "presents" behind, leading to a dog-waste problem that still remains unsolved).
Nuñez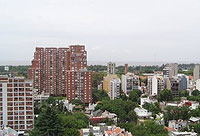 An upscale residential neighbourhood, Nuñez is a picturesque barrio located along the banks of the Rio de la Plata. Residential streets in this district are usually large villas covered by shady trees, much like the homes along the rest of the northern edge of Buenos Aires.

The barrio also has many apartment buildings, and has a lot of commercial activity going on, particularly between the Avenida del Libertador and Avenida Cabildo. Between the Avenida Libertador and the shoreline, residents are treated to large open areas dotted with sports clubs and other recreational areas. Other areas for recreation and social activity are its two public squares: Plaza Balcarce and Plaza Felix Lima.
Colegiales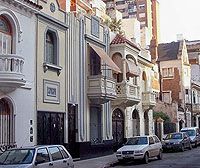 The octagon-shaped barrio of Colegiales is a neighbourhood of tall buildings, including high-rise apartment blocks that have gone up in the area in recent years, particularly near the railway station. It is a busy residential and commercial area, with parks and plazas, restaurants and bars, and a large flea market on Plaza Dorrego.

The Colegiales Athletic and Social Club, long a popular place for tango, is still the neighbourhood's favourite hotspot.
---