Villa Luro
Villa Luro is an up-and-coming suburban area, with several apartment buildings and new houses built next to older homes. Villa Luro is a meat-processing area; the first slaughterhouses here were built in the 1970s.
Velez Sarsfield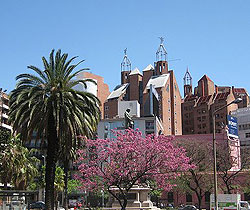 Vélez Sársfield is a middle-class neighbourhood characterized by single-family homes and low-rise apartment buildings. There are some factories and warehouses here as well.

There are some big, old houses in the area, though not as many as they used to be. The heritage of the old days is also reflected in Vélez Sársfield's well-preserved and still-inhabited casas baratas (cheap houses), built by the government in the 1920s as affordable homes for many of Buenos Aires' residents.
Vélez Sársfield has a first division football club, though it is based in nearby Liniers.
Floresta
The multicultural district of Floresta is a middle-class residential area with several parks, the most important being Avellaneda Park on the grounds of an old monastery. One of Buenos Aires' main roads, Rivadavia Avenue, goes through Floresta.
Monte Castro
Middle-income Monte Castro is one of the highest locations in Buenos Aires. It is set around the height of the top of one of the city's landmarks, the 220-foot Obelisco. The neighbourhood is windy, with small streets and typical Buenos Aires houses and villas. There are a few residential and office buildings here too, and a shopping centre.
Villa Real
Like many of Buenos Aires' middle-income neighbourhoods, Villa Real has tree-lined streets, low houses and larger, colonial-era homes situated right next to newer apartment buildings. Villa Real is small in size and in population.
Versalles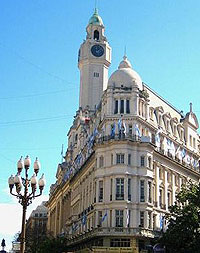 Versalles, named after the French palace of Versailles, is a quiet, middle-class residential area. Its houses are different in style from the usual Buenos Aires home, perhaps because they were built by Englishmen who settled here to work on the railway as employees of the British-owned Buenos Aires Western Railway. This neighbourhood of old trees is also one of the greenest in the city.
---