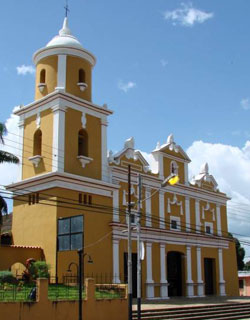 The beautiful state of Cojedes in the Central Plains possesses verdant hills, large forests, and extensive savannas where herds of cattle graze. Situated on the banks of the river Oruye is the capital, San Carlos.

Stockbreeding tops Cojedes' economic activities, with significant production of milk and cheese. Lumber production and cultivation of rice, sesame, corn, cotton, yucca and tobacco come in next. Industries in electronics, motors, textile and furniture are also expanding.
Cojedes celebrates many local festivals. The Locos y Locainas is a celebratory dance performed on December 28 to the festive noise of whistles, horns, cans and maracas, with dancers hiding behind masks made of horns and wire. Toros Coleados, where a running bull must be overthrown, is a favourite event held usually on Sundays and public holidays. Cockfighting is also an old pastime that has not waned in popularity.
The state receives many tourists, some of whom choose to stay at ranches that provide visitors' accommodations.
---