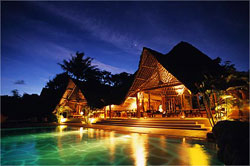 The first traders to touch Kenyan soil were Arabs from the Persian Gulf during the 12th century who reached the coast. Many of them settled in the area, and towns sprang up. In 1498, the Portuguese arrived and quickly gained control of the area, followed by the Omani people during the 17th century. All throughout this period, economic activity continued to develop. During the reign of the Omani ruler Seyyid Said, the export of hides, ivory, cloves, coconut and slaves peaked. In 1920, the coastal area became a British protectorate. This mix of colonial masters has made this region a wonderfully curious mix of ports, beaches, resorts and historical sites. Even the architecture reflects the many influences of cultures that have claimed the coast.
The coastal region is becoming popular with visitors to Kenya. The Indian Ocean provides some of the best diving and snorkelling in the world. Fish grow to enormous sizes here and the undisturbed coral reefs found in the marine parks of Shimoni, Watumu Bay and Malindi are expansive homes for a huge variety of marine life. While the capital and Kenya's second largest city Mombasa still attracts the most attention, places like Diani Beach, Malindi and Watumu Bays, and the islands of Lamu and Pate are fast becoming popular.
Places to see in Kenya's coastal region:
Gede Ruins: A popular historical destination, sprawling across 25 acres of native forest. Though no written records exist about this 12th century Swahili settlement, items like a pair of scissors from Spain, an iron lamp from India, a Ming vase from China and beads from Venice reveal that the Muslim community traded with people from all parts of the world. The ruins include tombs, palaces, mosques and homes—which were complex for their time, as their bathrooms had drains and came with overhead basins to flush waste out. "Urban" planning seemed to be evident also as the city streets were equipped with drainage gutters and were laid out at right angles. The area became a national park in 1948.
Jumba Ruins: Jumba la Mtwana ("house of slaves") is the ruins of a 13th century Swahili settlement by the sea. The remnants of carved homes, arched doorways, tombs and mosques are all that is left of a community that we can only assume was very vibrant in its time. No written history exists about the place, but findings reveal that Jumba la Mtwana was built in 1350 and abandoned a hundred years later. Today, it is a popular picnic place and tourist attraction.
Siyu: The Swahili settlement of Siyu is in the Lamu collection of islands. Visitors come to buy locally made fine leather crafts and to visit the remains of great mosques and tombs.
Ngomongo Villages Park: Once a barren, sun-baked quarry, the Ngomongo Villages Park is now a group of nine villages, each occupied by a different tribe. Visitors can meet the residents and try their hand at archery, tribal food tasting, maize pounding and hook fishing. Each village has homes, farmlands and livestock. The villages sit over land that was reclaimed after dozens of varieties of trees were planted in an old quarry.
Takwa Ruins: Takwa was a Swahili trading town on Manda Island in the 16th century. Today, its ruins are a popular place for campers and picnic-goers.
Tana Delta: The Tana River is the longest river in Kenya. At the river delta is the small town of Kipini as well as the remains of old Swahili towns and settlements such as Mwana, Shaka, and the 10th century town of Ungwana. The latter is one of the larger towns, with many remains of homes, mosques and tombs.
Bamburi Nature Trail: A conservation area that includes old quarries. It serves as a great example of how exploited land can be reclaimed by nature. Once vast lands of dry barren desert full of suffocating limestone dust, it is now a tree-filled oasis for giant tortoises, birds, porcupines, hippos, buffalo and crocodiles.
Kisite/Mpunguti Marine National Reserve: The quiet fishing village of Shimoni just south of Mombasa used to be a slave centre where thousands of captives were held in the town's huge coral caves prior to being shipped off as slaves to Pemba, Zanzibar and Arabia. What attracts the tourists today, though, is Kisite Marine National Park, a 28-square kilometre sanctuary in the Mpunguti Marine Reserve. The marine park is a wonderful diving and snorkelling where a huge variety of marine life can be seen. In the shallow waters, the blue shimmer of parrotfish can be seen. Go a little deeper and you'll find bright yellow sweetlips, blue striped snappers and Ehrenburg snappers. Farther out to sea are dolphins and humpback whales.
Shimba Hills: Expansive, bright green hills that include the remains of a tropical rainforest. Shimba Hills has its own wildlife sanctuary, where hornbills, crested guinea fowl, roan and sable antelopes, suni blue monkeys, elephants, lions, buffalos and a variety of animals can be viewed.
Hotel Coast: The edge of the Kenyan coastline is also called the Hotel Coast due to the number of budget and luxury hotels that run along the stretch of white sand beaches. The Arab culture that permeates throughout the coast of northeastern Kenya gives the area a culturally different atmosphere. Manda Bay and the island of Lamu, for example, bear very strong Middle Eastern influences in the traditions of the people and the architectural style of the buildings. Beautiful white-powder beaches make up the southern part of the coastline, while dive spots and marine parks bursting with an astounding variety of marine life are in the north.
Alfajiri: One of the finest properties along the Kenyan coast, its most famous visitors have been celebrity couple Brad Pitt and Angelina Jolie. This high-end group of luxury villas on Diani Beach is well-known not only for its astounding 360-degree view but also for its excellent facilities and services.
Funzi Keys: The best private islands in Kenya, nestled in the Indian Ocean and only a 15-minute flight from Mombasa. They are surrounded by warm waters and have a glorious view of the African sunset. Once a private holiday home, there are 9 deluxe private bungalows on the islands.
Manda Bay: Several luxury cottages built in the local architectural style, using local materials. They sit cozily by the sea and have access to clean beaches, dense forest and rich coral gardens.
Kiwayu: A mid-priced lodge in a secluded area. Rustic homes built from local wood come complete with a veranda that faces the water. The area's near-pristine state is thanks to its relative inaccessibility. The World Wildlife Fund has a post nearby that observes sea turtles.
Hemingways Resort: A mid-priced, simply furnished resort along the Kenyan coast with great food and service. Visitors who stop here like to go snorkelling, scuba diving, canoeing, and mountain biking. The sea surrounding the resort is a popular place for deep-sea fishing competitions.
Diani House: Relatively inexpensive accommodations on Diani Beach, just south of Mombasa. With a forest behind it and a beautiful stretch of beach in front of it, Diani House began as a private holiday home long before the Diani Beach was developed.
Kizingo: An affordable resort on Lamu Island, with 8 spacious, palm-thatched bungalows that have a great view of the sea, spacious beds and a cozy veranda. The lodge offers a seasonal variety of activities, including snorkelling, fishing, body surfing, sailing and dolphin watching.
Malindi

One of Kenya's oldest coastal towns is Malindi, where the Portuguese explorer Vasco da Gama landed in 1498 before he sailed on to find India. It is also one of the biggest tourist draws on the coast. Historical monuments such as the pillar that da Gama erected overlooking the water are just some of the attractions here. The town has hotels, casinos, bars, clubs, and golf courses. Malindi's long, curving beach is a popular site for surfing and deep-sea fishing. Glass-bottomed boats take tourists on trips to view the rich corals underwater in the Malindi Marine National Park.
Mombasa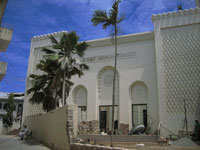 Mombasa is Kenya's second largest city and the country's primary port. It is a vibrant island town whose streets range from twisting alleys embellished with intricately carved doorways and Arab patios, or wide avenues leading to modern office buildings. Mombasa is one of the mort important tourist centres in Kenya.
Typical of coastal towns, Mombasa sits on flatlands. While it is mostly on Mombasa Island, it also extends into the mainland, separated from it by two creeks, Port Reitz and Tudor Creek. The weather here is warm almost all year round. The rainiest months are April and May.
As Kenya's only large seaport, trade and coastal tourism keeps Mombasa abuzz with activity day and night. Popular areas to visit are Fort Jesus and Old Town. Mombasa's beaches—Nyali up north and Diani down south—are popular for their white sands and the warm waters of the Indian Ocean. Scuba diving, sailing, deep-sea fishing, game park safaris, and lavish beach front hotels—not to mention the warm hospitality of the Kenyan people—are more than enough enticements for people to come and visit.
It is not uncommon to see Portuguese, Arab or British influences in every aspect of Mombasa, from the  architecture, the cuisine and the people. While the most common language spoken here is English, finding Dutch, German or French speakers is common.
              
Mombasa is a relatively small town, so an extensive transportation system is not needed. In fact, Mombasa only has four major roads along which most of its businesses and shops are located: Moi Avenue, Nyerere Road, Digo Road and Nkrumah Road. The most popular way for locals to get around is by the public bus or the minibuses known as matatus.
Safety and security in Mombasa has always been an issue of concern, but it has improved over the years, especially along the beaches, where foreign saturation is highest. It won't hurt to be extra cautious when exploring the city, though.
Mombasa's Old Town is a great place to start to get a feel of Kenya's history. Rambling through Old Town is like stepping back in time, back to the days when the coastal region was ruled by the Portuguese. The residents are mostly of Arab origin, which is felt very much in the language you'll hear spoken here and in the town's architecture. The old buildings and balconied homes are lavishly embellished with ornate carvings, while quaint shops sell antiques and souvenirs. The best way to experience Old Town is by foot and with a local guide.
If you start at Old Town in the morning, you can make Fort Jesus by afternoon. Fort Jesus is an imposing citadel built in the 16th century when the coastal region was under Portuguese reign. Although small changes to the structure were made by each new colonizer over the centuries, it still remains a superior example of 16th century Portuguese military architecture.
Nyali
A prime residential area along the coast of Kenya, Nyali is also referred to as the "North Coast" due to the number of beachfront hotels that line the waterfront. Nyali, which is split up into Old Nyali and New Nyali, has banks, a post office, supermarkets, shopping malls, cinemas and the Nyali Golf Club. Nyali Beach is a favourite among tourists in the summer.
Kizingo
The most sought-after residential area in Mombasa is Kizingo. It has the Mombasa Golf Club, a 9-hole course surrounded by the white sandy shores and coral reefs of Mombasa's coast, as well as a great view of the Mombasa harbour with the Indian Ocean beyond. The State House in Kizingo is the official residence of the Kenyan President as well as the guest home of visiting leaders. Standing on 3 square kilometres of prime land, the State House was built during British rule in 1907. It served as the official home of the Governor of British East Africa.
Fort Jesus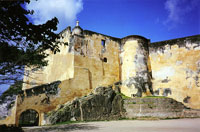 On Mombasa Island is Fort Jesus, a grand old stronghold built in 1593 by the Portuguese during their reign over the East African Coast. Built in the shape of a man, the fort is still one of the finest examples of 16th century Portuguese military architecture. Declared a historical monument in 1958, Fort Jesus today hosts not only a museum, but a conservation lab and several research programs.
Watamu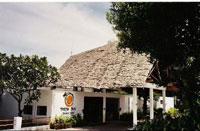 Watamu Beach is a long stretch of white sand on the Indian Ocean coast popular with tourists for its laid-back environment and Caribbean atmosphere. As it is part of Watamu Marine National Park, there are no high-rise hotels here. With stretches of sand, water and sky that seemingly go on for miles, it is no surprise that popular activities in the area include swimming, diving and sunbathing. There are lots of places to stay in Watamu, from luxury hotels, serviced condo hotels to beachfront bungalows. The Hemingway Resort is found here, as are the Gede Ruins.
Lamu Island
The port town of Lamu on Lamu Island was founded in the 10th century. Today, walking around town is an opportunity to visit its past. Lamu Museum for example, has a wonderful collection of artefacts from groups like the Orma, Pokomo and Swahili. Other popular museums are Swahili House Museum, the German Post Office Museum and the Lamu Fort Environment Museum.
With its narrow streets, the only means of transportation within the town is by donkey, or by sea via dhows or motorboats. When visiting, do not forget to take note of the surrounding areas, full of abundant life and deserted tropical beaches.
Shela
The village of Shela on Lamu Island was the site of a great battle between the peoples of Shela, Pate and Mombasa. It is now a centre for tourism, with a number of traditional homes at one end of the village. Many of these have been purchased by foreigners and grandly and gaudily renovated to become the kitschy holiday homes they are today. Shela also has one of the best beaches on the island, with stretches of clean, pure white sand and vintage dhows bobbing up and down on the water. It is a quiet change from the hustle and bustle of Lamu town and port. One of the better-known places to stay in Shela is the Peponi Hotel, with its intimate atmosphere and Arab charm. Situated by the water, it is a relatively inexpensive place to stay and a great romantic option for honeymooners.
---