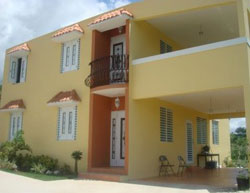 When explorer Juan Ponce De León arrived in Puerto Rico in 1508, the Indians told him about the legendary Fountain of Youth. His long, fruitless search for it in Florida eventually led to his death, following a wound to his shoulder caused by a poisoned arrow during an attack by Calusa braves.

The Fountain of Youth that the Indians were referring to is the Coamo Thermal Springs, famous for their therapeutic and healing properties. It has been said that the springs provide relief to aching, inflamed bones and joints. Parador Los Baños de Coamo, the fashionable inn and resort that surrounds the springs, welcomes visitors from all over the world.

Some of the existing buildings in Coamo represent different architectural styles. The City Hall was rebuilt in the architectural style of Andalucia. The Coamo Historic Museum was built in the European Neoclassical Elizabethan style. The Coamo Catholic Church is done in the late Hispanic American Baroque style.
Other interesting landmarks are Jose I. Quinton Street, Coamo's main thoroughfare which was built over an old Taino road; the Casino of Coamo, which hosts formal dances, concerts, and cultural performances; and Our Lady of Valvanera Chapel and School.
Every February, Coamo holds the San Blas de Illescas Marathon. Inaugurated by the Phi Delta Fraternity in 1963 in honour of the town's founder, the 13.1 mile marathon brings together top-calibre runners from all over the world. It is the biggest race in Puerto Rico.
Coamo's cycling team were Puerto Rico's champions during the 1970s and early 1980s. The town's Pan-American Games Velodrome is still the only venue in the nation that can accommodate international sports competitions.
 
---