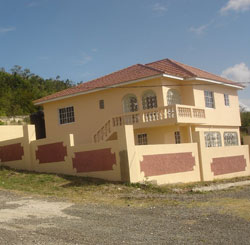 Clarendon's terrain is mainly flat, crossed by the Rio Minho and other rivers. In the north are Mocho Mountain and Bull Head Mountain. The latter marks the geographic centre of the island. The peninsula of Portland Point juts out from the southern end. This is the southernmost point in Jamaica. Found on this peninsula are Jackson Bay and some residential districts, including the flood-prone Portland Cottage housing estate.

There are many historic monuments in Clarendon. St Peter's Church is an old brick church with a tower. The great house Halse Hall is another fine example of 18th century architecture. Also noted for their design are the early 20th century Suttons and Four Paths railway stations.
Another famous building is the Portland Point Lighthouse, which is notable for being the tallest building on the island. But perhaps the main attraction in the area is Milk River Baths Spa, one of the best spas in Jamaica. It is found near the capital, May Pen. 
Clarendon is still largely an agricultural community. It may not be the most popular parish among tourists, but it supports a large residential population. 
May Pen
The capital of Clarendon, May Pen is a major centre of trade. The town lies on the bank of the Rio Minho River and a railroad passes through it. Its market, held on Fridays and Saturdays, is very popular, creating a lot of traffic near the main square. Fresh fish are always available at Osbourne Store and Rock Point. There are a few restaurants, bars, and nightclubs in the town, as well as a spa. The town has a population of around 60,000, many of whom live on the streets. In fact, May Pen has the third largest homeless population in Jamaica. Some areas like Rocky Point are unsafe at night.
Chapelton
Clarendon's former capital Chapelton is a historic town. A number of the old houses have names and many have interesting stories associated with them. The Ark, for instance, belonged to a Mr. Noah. Others have more nature-oriented names like Ivy Lawn and Rose Bank. Iron House is the first building to be constructed from iron in the town.
The residential area Danks got its name from the German for "thank you", "Danke schön"—said by the German wife of Sir Henry Morgan when he gave her the sugar plantation which became the now-congested neighbourhood. One of the best schools in Jamaica, Clarendon College, is found in this town, near a tree that once served as a gibbet. The town also has a century-old hospital.
---