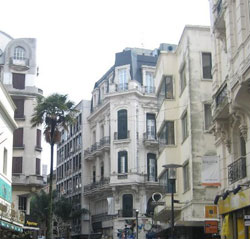 Ciudad Vieja (a prime area) is the historic quarter of Montevideo. Once you enter the 18th century Puerta de la Ciudadela (the original gate of fortified Montevideo), one is immediately greeted by authentic Spanish colonial houses and cobblestone streets.

Some of the landmarks in Ciudad Vieja are the Cabildo, the Solís Theatre, the Metropolitan Cathedral, and the Torres Garcia Museum.
Presently undergoing gentrification, Ciudad Vieja is being transformed into a nightlife hub to draw in tourists and young urban professionals. It also offers a wide variety of real estate at difference price ranges. Properties for sale include individual apartment units and buildings that could be converted into apartments, offices or retail shops, which offer a high return of investment for overseas buyers.
Sarandí Street
Sarandí Street has seen significant urban development with its transformation into the pedestrian walkway Peatonal Sarandí in 1992, with high-end shops, fashion boutiques, and cafés lining it.
Existing buildings in the area have been purchased by investors and are being renovated into apartment buildings catering to foreign buyers and young professionals.
---