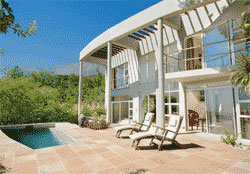 City Bowl, the heart of Cape Town, got its name from its rather unusual shape. It is tucked in a round, bowl-like area between the harbour and the mountain. It is bordered by Table Bay and surrounded by the slopes of Devil's Peak, Lion's Head, Signal Hill, and Table Mountain.

The city centre is encircled by beautiful neighbourhoods with easy access to restaurants and historic sights. Cable car rides and mountain treks up Lion's Head and Table Mountain are well worth the effort; one would be rewarded with a majestic view of both sea and sky.
Bo-Kaap
Bo-Kaap is one of Cape Town's vibrant suburbs, lying on the outskirts of the city centre. It is home to large Muslim and Christian communities and features a rich blend of cultures.
Slaves brought by the Dutch from Africa, India, Indonesia, Malaysia and Sri Lanka in the 1700s were the first to settle here. Older semi-detached homes lie on lower grounds, while newer houses rise up the cobbled streets leading to the slopes of Signal Hills.
Bo-Kaap houses have Dutch and British influences, and are unique for their front porches, called stoeps. These are usually made of Dutch tile or brick or English red brick. Families, neighbours and friends gather and socialize on these stoeps.
Some homes dating back to the 1750s are now regarded as national treasures. One of the oldest has been converted to house the Bo-Kaap Museum. The splash of colours, though—oranges, yellows, pinks, greens and blues on the houses' facades—didn't appear until after Nelson Mandela was released from prison in 1990. During the apartheid regime, residents were prohibited from using bright paints.
Walking tours around the picturesque suburb, also called the Malay Quarter, are now widely organized. Property investments are also welcome, although some residents fear that it will alter Bo-Kaap's unique vibe.
Green Point
Green Point is a very popular suburb in Cape Town, situated on the edge of the city centre. It is home to many young professionals and the city's gay and lesbian community. Housing is offered in mixed-use complexes and mid-rise apartments.
Due to its young residents, the area has a lively atmosphere throughout the day. The main commercial street, Somerset Road, is where crowds flock. Restaurants, delis, and cafés are the most popular hangout places here. It is shared by the suburb of Sea Point.
Nightlife is particularly vibrant on the main road with, numerous clubs, bars, pubs, and cabarets providing entertainment. In fact, Green Point is considered Cape Town's after-dark centre.
In preparation for the 2010 FIFA World Cup, the new Green Point Stadium is being constructed. There is also a plan to create an urban park around it. Right now, Green Point's famous Sunday market is set up around the stadium, where African arts and crafts are sold.
De Waterkant
At the heart of Cape Town's famous shopping district is the residential neighbourhood of De Waterkant. It has a European vibe and retains a charming village atmosphere despite being surrounded by very modern entertainment complexes. Many 18th century semi-detached houses along its tree-lined cobbled streets have been transformed into stylish cottages that offer residents and guests a taste of "local", or rather theatrical, living.
During the day De Waterkant functions as a typical business centre where people work, shop, eat or check out art galleries. Excitement picks up as night falls, with its wine bars, gay bars, tapas bars and salsa clubs coming alive.
Massive construction in the area took place in 2008 and 2009. One development was a Cape Quarter shopping mall that now obscures some of the surrounding hotels' views. More developments are still being planned, continuously changing the facade of De Waterkant.
Oranjezicht
Located on the slopes of Table Mountain is Oranjezicht, a posh suburb which was once the site of a large farm. It is one of Cape Town's most beautiful neighbourhoods, with magnificent views of the city centre, Signal Hill, Lion's Head, and Table Bay.
Oranjezicht's quiet atmosphere and easy access to the city's main roads and attractions make it a highly desirable residential area. It is just a short walk from Kloof Street, where trendy restaurants and cafés are located. It is also very close to Long Street, a well-known nightlife strip.
Tamboerskloof
Tamboerskloof is one of the oldest residential neighbourhoods in Cape Town, located on the slopes of Table Mountain. This charming suburb boasts varied architectural styles, the most prominent of which are lovely Victorian-style and Art Deco-inspired homes.
It is quite pleasant to walk along Tamboerskloof's wide, tree-lined streets. The neighbourhood is very quiet, despite its proximity to the bustling city centre.
Tamboerskloof is just walking distance to Kloof Street, famous for its quaint bookshops and antique stores, as well as its many trendy restaurants and sidewalk cafés.
---