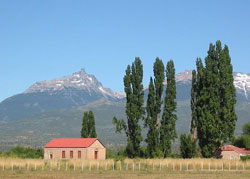 The southern province of Chubut includes the Andes range by the Chilean border and a stretch of Atlantic coastline. It has a very prosperous economy, fuelled by its mining, petroleum, and tourism industries.

Ecotourism is big in Chubut, with tourists frequenting the marine wildlife reservoirs Peninsula Valdés, Punta Tombo and Punta Ninfas, and the Petrified Forest near Sarmiento. The Golfo San Jorge's sparsely populated beaches located farther down south are also visited by bird lovers interested in observing the flightless Chubut Steamer Duck.
By the Andean region, tourists holiday at the La Hoya Ski Centre, or take hikes and view the lakes at Esquel, and visit the Los Alerces National Park. Also in Esquel is the vintage steam train, the Old Patagonian Express (also known as "La Trochita"), popularized by Paul Theroux in his writings.
Rawson
Chubut's capital city, Rawson, got its name from Welsh immigrants who settled here.   
Rawson has a port and a beach, Playa Unión, on the Atlantic Coast. It is crossed by the Chubut River. The port is the main source of the city's economy. There are also several businesses, such as restaurants, along the waterfront.
The city's tranquil General San Martín Park has a zoo and camping grounds.
Comodoro Rivadavia City
In the shadow of Mount Chenque, Comodoro Rivadavia is a city on the rise, thanks largely to its oil industry. It is Chubut's largest city, a centre of commerce and transportation, with a busy harbour and free trade zone.

Comodoro is a modern city. In its downtown, and particularly along its main artery, Calle San Martin, you can find shops, restaurants and bars, libraries and pharmacies, shopping centres and movie houses, schools and medical centres. The city has an active night life, and in the daytime there are plenty of opportunities for water activities such as swimming, sailing, sport fishing, surfing and water-skiing. The resorts of Comodoro's beach town, Rada Tilly, welcome many visitors in the summer.
---