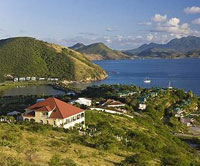 The parish of Christ Church Nichola Town is situated on the east coast of St Kitts. Its capital is Nichola Town, in the northeast section of the island. The largest town in the parish is Molineux, which was named after the French sugar plantation, Molineux Estate.

There are not many interesting sites in the parish apart from Phillips' Ghaut. Also here are the Mary Charles Hospital and the Molineux Primary School.
Nichola Town
Nichola Town is the capital of Christ Church Nichola Town parish. It is in northeast St Kitts.
Molineux/Molyneux/Molinex
Molineux is the largest town in Christ Church Nichola Town. It rose from an old French estate that was once a sugar plantation. The estate was large, but the workers were not permitted to use the broad land for housing. Instead, lands unsuitable for planting sugar, such as hillsides and near ghauts, were allotted for housing. The three main residential areas were Phillips, Stonehaven and Lower Works. Unfortunately, the ghauts proved to be dangerous locations. During a hurricane in the 1940s, several houses were swept away. Negotiations with the estate manager led to better residential locations.
Present-day Molineux is divided into three parts—Stonehaven, Upper and Lower Projects—with dirt, pitch and concrete roads laid out in a grid pattern. Many buildings are made of wood, concrete, or both. Most business establishments are two storeys high. Bungalows mainly comprise the houses in the area.
---