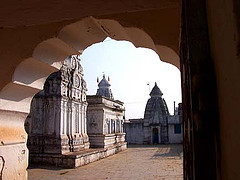 Chhattisgarh state was formed in 2000, and was formerly part of Madhaya Pradesh. It is very poor. The average per capital income was US$250 per year, in 2001.

This is really a "tribal" state. More than 95% of residents of Chhattisgarh are not part of Hindu society, or are very low caste, because of their occupation. Village society here is little affected by classical doctrines of Hinduism.
Nevetheless Chhattisgarh is home to several Hindu religious sects. It was the birth place of Vallabhacharya, a noted figure in the Krishna-bhakti ecstatic devotionalist movement. Some historians suggest that bhakti's unleashed eroticism and emotionality reflects an absorption by mainstream Hinduism of non-Hindu tribal practices.
The state's style of dance, cuisine, and music are distinct from the rest of India. For example Raut Nacha is a traditional folk dance, which closely resembles Krishna's dance with the village girls (gopis).? Panthi, the folk dance of the Satnami community, is performed on Maghi Purnima, the anniversary of the birth of Guru Ghasidas. While the songs reflect the longing for Nirvana, dancers with swinging arms become carried away by devotion, and as the rhythm quickens they indulge in acrobatics and form human pyramids.
The women of Chhattisgarh are among the most liberated in India. They enjoy social freedom, and marry and terminate their marriages by their own choice. The gender ratio is unusual, with more women than men, indicating that female infanticide is not practiced again, the tribal background at work. Both women and men generally marry at a young age. Most old temples/shrines here are related to 'women power' (e.g., Shabari, Mahamaya, Danteshwari).
Increased contact with the rest of India in recent years has, however, facilitated the adoption of mainstream Hindu ideas on female subservience.
Some 44% of the state is covered by forest.?The north and south are hilly, while the centre is fertile and flat.
In the midst of Chhattisgarh's fertile plains lies the district of Raipur, through which runs the river Mahanadi and its six tributaries. The state capital Raipur is a rapidly growing industrial centre. It has an airport, a major railway station, and is on two national highways.
---