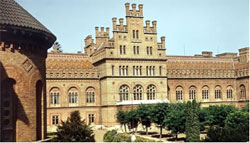 Chernivtsi is one of the smallest oblasts in Ukraine, but it is very picturesque, with the Carpathian Mountains, foothills and forest steppes dominating its landscape. It has 75 rivers, the longest of which is the Dniester.

The oblast is a popular destination for nature trips and hiking. It has a wealth of nature parks and reserves, such as the Valya Kuzmina beech forest and lake, the Storozhynets Dendrology Park, and Vyzhnytsky National Park. The oblast has important archaeological sites as well.
Other attractions in Chernivtsi are the Khotyn Fortress, the Bukovnynian Mytropolyt Residency, and the Kozmodemyanivska Church.
Farms adorn the hillsides. The major industries here are food processing, oil production, cattle and poultry raising, and wood processing. The oblast also has mineral water and mud deposits.
Chernivtsi City
Chernivtsi City lies on the upper part of Prut River in western Ukraine, and is the administrative centre of Chernivtsi Oblast. It is one of the most important cultural and educational centres in the country, as well as a major transport junction.
Chernivtsi was once called Little Vienna for its neoclassical and Secession-style architecture. Many important historic buildings can still be found at the city centre—old buildings of Baroque, Gothic, Byzantine, and traditional Moldavian and Hungarian design. Many of them are in need of restoration.
The city has a number of museums and palaces, fine arts and music schools, cinemas, libraries, and recreational parks and squares.
---