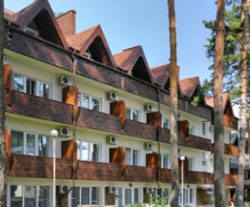 Cherkasy is part of Ukraine's forest-steppe zone. It is a terrain of mountains, flatlands, swamps, lakes and rivers. It is rich in mineral waters and fuel deposits.

Cherkasy's economy is primarily agricultural, the main products being winter wheat and sugar beet. Barley, corn, tobacco and hemp are also produced. Breeding cattle is also a vital industry.

Cherkasy is home to about 130 ethnic groups, the majority of which are Russian and Ukrainian.
Cherkasy City
Cherkasy City lies on the banks of the Dnieper River in central Ukraine. It is the capital of Cherkasy, Ukraine's youngest oblast. The city is rich in pine forests and mineral waters, and has many green parks. The city's impressively wide, chestnut-lined boulevards add to its charm, alongside scenic river vistas.
Cherkasy's sights include the Hill of Glory, a war memorial, and St. Michael's Cathedral, Ukraine's tallest basilica. The Shevchenko Drama Theatre, the Cherkasy Philharmonic, the Shevchenko Museum and Cherkasy Art Museum, and the monuments of great Ukrainians Bogdan Khmelnitsky and Taras Shevchenko bring visitors to Cherkasy as well.
Cherkasy's economy relies on food and sugar processing, trains and steamboat building, tobacco production, and synthetic fibre and fertilizer manufacturing. There are also many furniture companies here. Despite being a prosperous industrial centre, though, it retains a small town atmosphere.
---