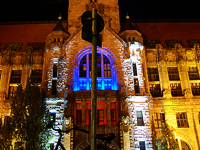 Charlottenburg-Wilmersdorf, Berlin's most prominent borough, is mostly an upper middle-class residential neighbourhood, with some of the city's most elegant homes along tree-lined avenues - classic houses, generally in good condition, as well as those more recently built. There are also some social housing apartment blocks built in the 1950's-1970's. The district has among the highest average income per household in Germany.
Though many buildings were destroyed during World War II, a great number of well-known landmarks in survive, like the Egyptian Museum, the Berlin Opera, Schloss Charlottenburg, and the ruins of the Kaiser Wilhelm Memorial Church. The area has Berlin's biggest commercial district, including the prestigious boulevard Kurfurstendamm, the home of KaDeWe, Europe's biggest department store. Kurfurstendamm is Berlin's equivalent of the Champs-Elysees, with top international designer boutiques and other upscale establishments.
The Olympic stadium and the Technical University are other important landmarks in Charlottenburg-Wilmersdorf. This district is also home to numerous cafes, bars, and posh restaurants. The popular park Volkspark Wilmersdorf is among other recreational and touristic attractions.
Charlottenburg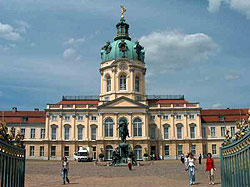 Charlotteburg has some wonderful 19th century townhouses and also great luxury apartments. It is subdivided into Westend, Charlottenburg-Nord and Charlottenburg.


Charlottenburg's old borough is at the heart of what was once West Berlin. After World War II it was well-developed, and continues to be an elegant shopping and residential locality. Its population is dominated by wealthy professionals and retirees. It has a good public transport system, making it convenient to get around even without a car.
Westend, named after London's West End, it is a green area, with elegant old mansions and simpler, fairly new suburban housing.
Charlottenburg Nord is less affluent than southern Charlottenburg, but is pleasant enough. This district is populated by a whole wide gamut of people, ranging from celebrities, to students from the nearby Technical University.
The area has a number of tourist attractions like the Schloss Charlottenburg, the old royal palace, which was badly damaged during World War II, but recently restored to its former splendour. Bahnhof Zoo is at one end of this area. The Europa Centre, one of the first shopping centres in Germany, dates back to the 1960s. Savignyplatz, a favourite meeting place in this district, has many bars, restaurants. There are also several modern art museums.
Wilmersdorf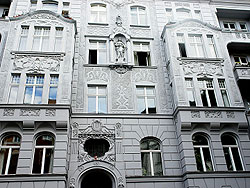 An upper class enclave, with many spacious residential developments, Wilmersdorf has some fine examples of 19th century architecture. There are many single family houses and villas, as well as apartments in renovated old buildings.

The district is centrally located and is home to Kurforstendamm, often described as the Champs-Elysees of Gernany. It has upscale bars, cafes, restaurants and designer boutiques that spill over into the residential areas. The Grunewald forest, to the district's west, offers respite from the noise.
Grunewald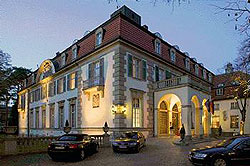 Grunewald is one of the most elegant parts of Berlin think large detached villas on spacious lots, surrounded by open countryside, with a forest and lakes. This district is favoured by bankers and businessmen, professors, and artists. Bordering it is Dahlem, which also boasts posh properties often chosen by senior civil servants and diplomats. Grunewald has the famous Rot-Weiss Tennis Club, founded in 1897, where the WTA Tour German Open was held.


Halansee
Halansee is a small neighbourhood between Grunewald and Charlottenburg. It was once favoured by writers and retired army officers. In the 1920s, it was mainly populated by Russians.
---