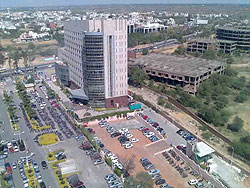 Chandigarh, Punjab's capital, is administered separately as a Union Territory, as it is also the capital of neighbouring Haryana.

Planned by Le Corbusier, Chandigarh's architecture has been controversial ever since it was built.

Designed with brutalist modernism, on an enormous scale which takes no account of the characteristic density of Indian street life, Chandigarh has vast empty spaces, flat stretches of grey concrete, and endless visual monotony. The distances are breathtaking.
The plans were based on the idea of the "Radiant City" Corbusier's dreamed-of un-congested city centre, filled with sun, space, and greenery. Unfortunately the Radiant City's original drawings (in retrospect) look like a slum project extended as far as the eye can see, featureless high rises in straight lines.
The city is starkly divided into inward-looking sectors of 800 by 1200 metres, each supposedly a self-sufficient neighborhood. A hierarchy of roads separates pedestrian and vehicular traffic into seven different road types.
Ah, logic!
Its critics say the architecture is dull, and the modern concrete forms depressing. The result was unhappily at odds with Indian conditions, where 70% of the economy was still agricultural. No provision was made for society's informal sectors, and significantly, the construction workers who built the city were underpaid, unhoused, and uncared for.
Today nearly a third of the city's 700,000 inhabitants now live or work in slums, reflecting the fact that no provision was made for people of average incomes. The ideal citizen seems to be a VIP driving through empty streets, arriving in a luxury assembly building, in a chauffeur-driven limousine.
There are two satellite cities of Chandigarh: Panchkula and Mohali. Together these three cities are sometimes called Chandigarh Tricity.
---