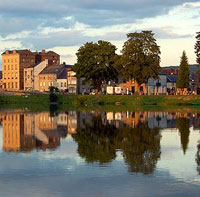 Champagne-Ardenne is a region associated with wine and history. It also offers several world-class cultural attractions, such as the ancient village of Troyes, the famous walls of Langres, Reims, Epernay, and Colombey-les-deux-Eglises.
The terrain mainly consists of forest and lakes that are perfect for outdoor activities like hiking, fishing, and boating.
The region, of course, is well known for its association with the sparkling wine. Champagne is is produced exclusively in the region that gave the beverage its name. The city of Reims holds the moniker of "champagne capital of the world" and is also the location of a famous Gothic cathedral.
The actual regional capital is Chalons-en-Champagne.
Châlons-sur-Marne is a commercial and manufacturing centre; products include beer, champagne, textiles, precision instruments, and electrical equipment. Among the notable buildings in the city are the Church of Notre Dame-en-Vaux and the 13th century Cathedral of Saint Étienne.
---