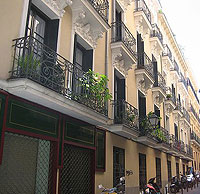 Chamberi is not very exciting. It is a simple middle-class area with mainly utilitarian buildings just 1 km north of the city centre. The apartment buildings are mostly from the 1950s. Four or five stories high, they sometimes have balconies.

Chamberi is a point from which all main neighborhoods can be easily reached via subway or bus. Or you can ride the Teleferico, a charming cable car that can bring you up a hill to get a wonderful view of Madrid. There a few other attractions: the elegant house that once served as the residence of Marquis de Santiago, the Canal Isabel II which is bordered by attractive gardens, and the Museo Sorolla and other museums.
It has all the necessary facilities, including restaurants, cinemas, cafes and clubs. The malls offer good shopping. The streets can get congested as Chamberi is near Paseo de la Castellana, but parking is not a problem.
---