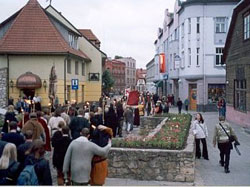 The Cesis District lies in the centre of the historic Vidzeme region, placing it within northeastern Latvia. The district as a whole is approximately 90 km away from Riga; that makes it about two hours from Riga by bus. Cesis is the fourth largest district in the country.

As part of the Vidzeme region, the Cesis District is subject to long winters and heavy precipitation.

Slightly more than half of the Cesis District is covered in pine forest. Not surprisingly, it is home to the largest national park in Latvia: the Gauja National Park. The park is known for its high sandstone cliffs that tower over the banks of the Guaja River. Within the national park are more than 500 buildings of historical importance, including castles, castle mounds, churches, estates and monuments. The park is a major tourist draw, and is sometimes referred to as the "Livonian Switzerland" along with the rest of the Vidzeme highlands.
The small town of Ligatne, just beside the park, is known for its Ligatne Nature Trails that take hikers and cyclists through the forest preserve.
The city of Cesis is also found beside the Gauja National Park. Nicknamed "The Pearl of Vidzeme", Cesis is the oldest city in Latvia; it celebrated the 800th anniversary of its founding in 2006. Cesis was built upon a very old settlement that was founded on the crossroads of several major trade routes. Its strategic location has made the settlement a frequent base for warfare and defense. One early fortification, the Riekstu hill-fort, has left a remnant in the form of a 18-metre mound.
Later on the Livonian Brothers of the Sword, an order of German crusaders, constructed a castle near the Vend hill-fort in 1209. Cesis Castle was razed in 1577, rebuilt, and destroyed again in 1703. The ruins now serve as a romantic backdrop for the Cesis Castle Park, a popular recreation and sightseeing area. The New Castle, built in the 18th century, was originally the residence of the noble Sievers family; it currently houses the Exhibition Hall of the Cesis History Museum.
Legend has it that Cesis was the birthplace of the Latvian flag, one of the oldest in history. The story: In 1272, the king of the Letgal tribe, dying of battle wounds, was carried off the field on a white flag. Stained by the king's blood, the white sheet turned maroon, except for a white swath in the centre where the king had lain. The current flag of Latvia is a field of maroon with a white stripe through its middle.
---