This urban parish of Eloy Alfaro has the only train station in the capital. It is divided into eight sectors: Chilubulo, Chimbacalle, La Argelia, La Ferroviaria, la Magdalena, la Mena, San Bartolo, Solanda and Lloa. The key residential areas among these are Chimbacalle and Solanda.
Chimbacalle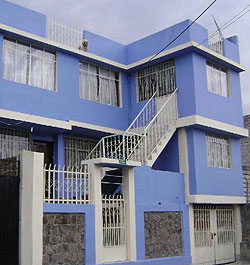 The only train station in Quito is in the parish of Chimbacalle. The train station has undergone minimal change since the days of Eloy Alfaro, making a humdrum train ride a quaintly memorable experience. Near the train station stands the Iglesia de Chimbacalle, a relatively modern structure. Erected in 1912, the church has a plain, symmetrically designed façade, and a bell tower that welcomes its vistors with its arched entrance.

Chimbacalle's avant-garde Museo de Interactivo Ciencias has adopted the winning formula of combining learning with fun, giving its guests the chance to play the protagonist as they interact with its numerous scientific and technological installations. The museum also has a futuristic exhibit on how the capital might look and be like in 2025. It also has a central square, a spacious open-air theatre, and a path along the green banks of Machangara River.
Solanda
The town of Solanda has quite a few attractions, including El Panecillo, a hill on which stands a monument to the Virgin Mary; the neo-Gothic Basilica del Voto Nacional; and the Pichincha Volcano with its horsehose-shaped crater. Solanda's restaurants and bars can be found in its La Zona Rosa.
---