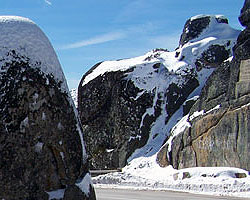 Região Centro has a diverse collection of landscapes. Mountainous areas and plateaux full of chestnut and pine trees are crowned by the majestic range called the Serra de Estrela, whose ski slopes are crowded in winter. The rugged landscape is crisscrossed by rivers, which draw visitors to enjoy outdoor activities and rustic charm. There are also some historic towns with ancient castles.

Along the Atlantic coastline is the Silver Coast (Costa da Prata). It has a temperate climate with the white sand beaches, blending with Atlantic pine forests. Although the water is chilly, the area is a favourite destination in summer as the high cliffs surrounding the area make for great sun-traps. Surfers are attracted to the Silver Coast where winds draw in perfect waves, and there is a rising wave of tourist development here, although some fishing towns like Nazaré have remained unspoilt.
The Silver Coast also attracts investment property buyers. There is a wide range of property in this economically booming area, and with the friendly attitude of locals and lower costs of living than in glamorous Algarve. The picturesque coastal towns of Caldas da Rainha
Turcifal, and Peniche are made more accessible from Lisbon by the construction of the new A8 motorway.
Centro's capital, Coimbra, is alive with history and has a vibrant social life. Portugal's oldest university, the University of Coimbra boasts a magnificent Baroque Library, and the student community brings vivacity to the old town with their parties and other yearly events. The town was built in Roman times, and there are still some extant Roman structures around. Down the Modego River is Coimbra's Baixa (downtown), full of restaurants, boutiques and other shops.
Further north is Aveiro, whose seaport heritage is evident in its charming canals and the coastal lagoon called the Ria. The three canals that converge into the city are divided into two parts by the Central Canal. Up north is the old fishermen's section, and the south is full of historical buildings. Take a traditional moliceira (a gondola-like boat) to enjoy the beautiful Art Nouveau buildings that line the Central Canal. The University of Aveiro has also drawn thousands of students to the city, which means that there is no shortage of places to have fun in Aveiro.

For weekend trips, there are sandy beaches at nearby Barra and Costa Nova. Other important cities in the region are Viseu, Leiria, Covilhã, Figueira da Foz, and Guarda.
---