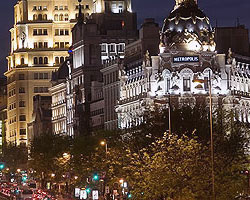 This is the historic centre of Madrid. The city we know today had its origins here, and echoes of the medieval street plan remain. Centro (prime area) showcases elegant architecture from the monarchy's glorious past, as exemplified by the 250-year-old Palacio Real, an immense and impressive Baroque palace. Remnants of its ancient Arab walls can still be seen, separating it from a cluster of derelict homes.
There are fine restaurants and pleasant cafes around the peaceful, beautiful and relaxing Plaza Mayor, though unfortunately there are also many tourist traps in this area, serving up costly poor-quality goods.
Puerta del Sol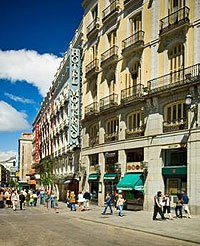 Puerta del Sol is the point from which all motorways originate, and a favorite gathering place for Madrileños. It is alive during the day with shops and malls, and buzzes at night with people enjoying its restaurants and cafes, such as those at Plaza Sta. Ana (though many are overpriced tourist traps). Puertta del Sol is a rather small residential area; and its streets can get quite congested due to its many popular establishments.
The Prado Museum with its vast European art collection is nearby. The museum houses several world masterpieces, including works by Velázquez, El Greco, Goya, Bosch, Titian, and Raphael.
Cortes
The little district of Cortes houses many important buildings. Both Parliament buildings are located here. Other attractions include the Thyssen-Bornemisza Museum and a Zarzuela theater.
Malasaña
Malasaña is one of Madrid's trendiest areas, its 19th century architecture hosting many shops, restaurants, bars, and nightclubs attracting Madrid's youth. The action centres on the Plaza dos de Mayo, a lively square lined with sidewalk cafes.
Malasaña bustles at night, but is not the best place in which to live, although it is now much safer than it used to be.
Lavapies
Once the Jewish quarter of Madrid, Lavapies is now a haven for immigrants, with many African and Middle Eastern residents. Lavapies' diverse population gives it a lively, cosmopolitan and bohemian character.
It is crowded with low-cost apartments, most of which have balconies. There are many shops and markets. Bracketed by Plaza Tirso de Molina, Plaza Lavapies, La Latina, and the Atocha railway station, the area can get very busy during peak hours.
Embajadores
The name Embajadores refers to the embassies temporarily relocated here during a plague in the 1800s. Home to the enormous park Tierno Galván, Embajadores is typically Spanish. Attractions include cultural centres, a circus, a planetarium, a 3D movie theatre, and the Casino de la Reina.
Chueca
Chueca, near Malasaña and Gran Via, is a fashionable area with many trendy stores and cafes. The nightlife is lively, and the area is frequented by many well-to-do gays. However, other people also enjoy Chueca's many designer boutiques and interesting restaurants, nightclubs, and bars.
---