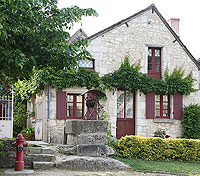 The region of Centre is home to the Loire Valley, which is called the "Garden of France" for its bountiful vineyards, verdant hills, and rich floral landscape. A multitude of beautiful châteaux are scattered throughout the Loire Valley, once the favored countryside of residence for the Kings of France.
Amboise, Angers, Azay-le-Rideau, Blois, Bouges, Chambord, Chenonceau, Langeais, and Villandry are just a few of the magnificant châteaux found in the region. Other regional attractions include the world-famous Cathedral of Chartres, a masterwork of medieval architecture.
Orléans, the regional capital, is a city long associated with Joan of Arc, who liberated the city from the British in the siege of Orléans on the 8th of May, 1429.
---