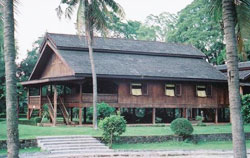 Central Sulawesi is a beautiful province with lakes, mountains, and valleys. It is famous for the Bronze Age megaliths found around the valleys of Bado and Besoa, and in Danau Poso, which is Indonesia's third largest lake.

Established in 1964, Central Sulawesi, which consists of 10 regencies, is not so developed, though tourists go there for boat trips and hiking. Tentena and Pendolo villages have beaches, but only during low tides.
The population of Central Sulawesi is highly concentrated in the coastal towns, while the inner region is sparsely populated.
What makes Central Sulawesi a great place, aside from its landscapes and prehistoric sites, is the culture and the people's genuine friendliness.
Palu
Palu city, which is quite dirty and noisy, sits on a bay on the island of Sulawesi. The city has an extremely dry climate, as it is sheltered by high mountain ridges and receives little rain. Palu River cuts through the city.
As Central Sulawesi's capital, the city depends on fishing, commerce, agriculture, and forestry for its income. Mining operations are ongoing, but highly opposed by environmentalists.
Palu's Talise Beach has been cleaned of its reputation as being a sex trade area once. Now it attracts tourists and locals who want to swim, snorkel, and dive, as its coral reefs have a vibrant marine life. The restaurants lining the beach offer traditional food and drinks. The beach can be quite a romantic place to go at night.
Tourism is being developed in the area, but infrastructure development is actually given more attention.
Poso
The main port and transport centre on Sulawesi's northeast coast is Poso. The small town's residents, whose settlements are found from the coasts to the mountains, rely mainly on fishing and farming.
Downtown, there are a number of shops, restaurants, and hotels. Poso serves mainly as a stopover point for many travellers.
The nearest beach good for swimming and snorkelling in Poso is Madale Beach, about 5 kilometres on the east. At the west is the popular Toini Beach, which has good seafood restaurants.
Togean Archipelago
The Togean Archipelago looks like a lost paradise with its limestone island covered in thick jungles and mangroves, and blessed with pure white sand. It hides beautiful coves and lagoons, and protects a number of seabird habitats.
The archipelago offers the best diving in Sulawesi, as it has a choice of atoll, fringing, and barrier reef systems, which has a diverse and abundant marine life.
Ethnic villages are found in the islands, and are very warm and welcoming. Katupat is the main village, located in Togean Island. Tin-roofed stilt huts adorn the streets, and narrow hiking trails lead one to other villages. There are superb beaches here, lined with wooden cottages with great bay views.
All the islands are great retreats. Pulau Kadidiri and Pulau Malenge have great diving and snorkelling spots.
---