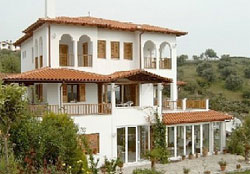 Beautiful and historic, Central Macedonia attracts tourists all year. It is Greece's largest region, and has an extremely varied terrain. The climate is continental, except for some coastal areas. Endangered species survive in its wooded mountains, rivers, and streams.

Central Macedonia has six counties, of which Chalkidiki is perhaps the most popular tourist destination, with its glorious green countryside and amazing peninsulas. The region has many historic and archeological sites, such as Dion, Vergina and Pella. There is an acropolis in the town of Serres. The lonely peninsula Agio Oros is interesting for its Byzantine monasteries that still house members of the different orders, the peninsula's sole inhabitants.
Thessaloniki is the region's capital, and cultural and economic heart. After Athens, it is Greece's largest and most populous city. The city has many Roman and Byzantine structures (especially famous is the White Tower), but much of the architecture is neoclassical. The city's squares and commercial district are filled with colourful shops, tavernas, restaurants, bars, and cafés. It also has some posh nightclubs.
All in all, it may be said that Central Macedonia offers some of the best aspects of Greece in a cooler climate than most areas.
Chalkidiki
Chalkidiki (Halkidiki) is a large peninsula consisting of three smaller stretches protruding like fingers. Its long coastline has some of the most pristine bays and beaches in Greece, about 50 of which have earned the EU's "Blue Flag" for their cleanliness. Chalkidiki is mountainous and very fertile. Agriculture is an important industry, but the coastal region relies mainly on tourism.
Polygyros, once part of the Turkish Empire, is Chalkidiki's capital and the largest settlement. Its old and modern mansions and apartments rest comfortably on the side of Mount Holomontas. It has schools and lyceums. Polygyros becomes lively and colourful, and even drunk with wines, during its carnivals lasting for 12 days.

Kassandra
Kassandra, Chalkidiki's capital, has nice sandy beaches with clear blue waters and a wide range of luxury hotels, trendy bars, and night clubs. Despite being very touristy, though, Kassandra is primarily residential.
The largest town and the region's capital is Kassandria, named after King Kassandros of Macedonia. It is densely populated, and the population swells even more during the holiday season.
Nea Moudania
Nea Moudania has grown from being a small fishing village to a popular tourist destination. Visitors flock to its captivating combination of rolling hills, vineyards, olive groves, and white beaches with shallow waters that suit families with children. The town is proud of its open-air theatre, which holds high-class concerts and theatre productions. It has a good commercial centre, and is popular with local and foreign tourists alike.
 
Mola Kaliva
Mola Kaliva is a quiet and rather posh village with some celebrity homes. Traditional houses with red tile roofs, stone walls, and wooden verandas, can be bound in Polychrono. Afitos, being very traditional, resists modern housing developments. Hanioti, on the other hand, combines modern luxury resorts with holiday homes.
Kallithea
Kallithea is cosmopolitan, lively, and very crowded. It has wonderful beaches lined with many luxury resorts. Interesting archaeological sites are the altars dedicated to gods Zeus and Dionysus. Nea Potidea is also highly touristed, with many hotels, apartment and room rentals, restaurants, tavernas, and shops.
Sithonia
Many of the beaches of Sithonia, the scenic middle peninsula of Halkidiki, are popular resorts. Neos Maramas is the most frequented of these. Its shallow waters are ideal for familes with young children.
 
Nikiti
Nikiti hosts swimming races and other water sports competitions, and can get pretty crowded. The village is an old one, but the beach has many modern lodges and tavernas with touristy menus. The early Christian churches of Elia and Agios Georgios are interesting historical sties to visit.
Vourvourou
Vourvourou, backed by pine forests, has luxury hotels and summer homes. It has an array of water sports facilities. Cruise boats dock on its safe waters.
Other sites of architectural interest are the fort ruins in Agios Nikolaos, the windmills in Sykia, and the Xiropotamos monastery in Sarti.

Mount Athos
Mount Athos is an autonomous place of prayer and worship dedicated to God. Its governors—the Holy Community, Holy Assembly, and Holy Supervision—are based in the town capital, Karies.
The region, established in 963 by the monk Athanasios the Athonite, has been called one of the holiest places on Earth. There are 20 monasteries, 12 cloisters, numerous cells, and cottages here. Only adult men of the Eastern Orthodox faith are accommodated and allowed to stay, but there have been formal pleas to allow women as well.
Mount Athos has some popular resorts, but the monastic area prohibits swimming. In nearby Ouranopolis there are modern hotels, shops, bars, restaurants and tourist-filled beaches. There are less crowded but equally beautiful beaches in Tripiti.
Imathia
Imathia's interesting and varied landscape of mountains, rivers, canyons, and caves, is quite known to nature enthusiasts. It also has well-known ski centres in Seli and Tria.
Veria, the capital city, boasts many archaeological sites including palaces and tombs of Macedonian dynasties. It also features 51 churches from the Byzantine and Post-Byzantine eras.
Naoussa is a beautiful town and the prefecture's agricultural centre. It is best known for its dry, red wine from the Xynomavro grapes.
Kilkis
Oaks, pines, and rare flowers and plants lushly cover a large part of Kilkis, known as "The Gateway to Greece". Its idyllic lake, Doraini, is a popular swimming spot, surrounded by a charming village and tavernas.
The region is famous for its high-quality dry red wines, made from Negoska and Xynomavro grapes. The wines are made in Goumenissa village. Kilkis, the town capital, also has a post-Byzantine church and an amphitheatre sitting on a hill.
Pella
Vast, green plains and high mountains characterize Pella. Apple, cherry, and peach blossoms make the place even lovelier during the summer. Pella has a resort on Mount Voras that has good nature sports facilities. There is a paragliding centre in Paganitsa.
Edessa, the town capital, is unique in the country for its waterfalls. It has old windmills and textile factories reminiscent of the Macedonian kingdom that thrived here. Varosi is its lovely quarter with 19th century buildings and cobbled pathways.
Pieria
Pieria, said to be the home of the Muses and the birthplace of Orpheus, is Central's Macedonia's smallest prefecture. It has a vast plain backed by the Pieria Mountains, with Olympus at the south. There are beach resorts along the sandy coast.
Pieria is the site of one of the most magnificent and well-preserved castles in the country, the 12th century Byzantine Platamon castle. Inside it has two beautiful churches.
Katerini
Pieria's capital consists of picturesque villages of white houses with red tile roofs. The town is highly photographed and adorns postcards. Popular summer resorts are Katerini beach, and the neighbouring Leptokaria and Litohoro.
Paralia in Katerini has livelier and more crowded beaches, with several hotels, lodges, and many night clubs. Some resorts are quite new. An impressive architecture on the area is the white Greek Orthodox Church near the shores.
Serres
Caves, lakes, ravines, and forests make Serres an ideal destination for nature lovers. It has a ski centre with restaurant in Lailia. A nice hotel with spa and fitness facilities is located near the ski centre.
Serres, its capital, features some historic sites, including a Byzantine castle, 14th century St. Nicholas church, and the ancient monastery of Timios Prodomos.
Katakonozi
Katakonozi is a wealthy neighbourhood in Serres. In the early 20th century, Soviet bloc immigrants favoured it. Today, it is undergoing a rapid expansion in real estate. Developers disregard its natural and historic heritages, causing dismay to local residents.
Thessaloniki
Ancient Thessaloniki flourished as an important political and economic region. Roman monuments were erected, some of which still stand today. One such interesting site is the Arch of Galerius, built by a 4th century Roman emperor. His tomb is nearby.
When Christianity took over, numerous Byzantine churches, monasteries, and basilicas were built. Most of these have survived today, protected by UNESCO.
Greeks, Turks, and Jews have also occupied the old Thessaloniki, each lending their significant influences in architecture, such as stone mansions, fortresses, and paved paths. All in all, Thessaloniki is a very picturesque region.
 
Thessaloniki City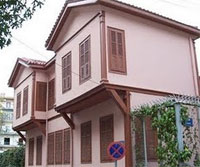 And as the region's capital, Thessaloniki is an important industrial and commercial centre and a major transportation hub. The city was renovated in the 1920s following the 1917 massive fire, with an urban planning that retains the ancient and classical heritages, while highlighting its economic importance and prosperity at the time. The plans put into consideration further expansions both in commercial and residential developments.
It is a modern, sophisticated city with large parks and public spaces, such as the lively and crowded Elefterias and Aristotelous squares. Around them are luxury hotels and small hotels housed in historic buildings, old and new restaurants and taverns, old-style and trendy bars, cafés, theatres, and cinema halls. There is also a night life district, Ladadika.
Thessaloniki has a large community of students attending Aristotle University, the country's largest university. Kalamaria, a modern and edgy district overlooking a marina, is a popular hangout place for students.
Kastra is an old walled quarter overlooking the modern city's dense building clusters and grid streets. It was not affected by the great fire, thus preserving its traditional houses, narrow alleyways and small courtyards now typically used to hang laundry. It is interesting, but is not very picturesque.
Evosmos
Evosmos is experiencing a boom in real estate development, particularly in the northern region where housing is very much in demand. Improvement of road networks and the construction of Egnatia highway brought about a rise in construction of modern businesses and services, concentrated at the centre.
Megalou Alexandrou Street is the city's commercial centre. It is lined with boutiques, jewellery shops, souvenir stores, restaurants, and cafés, and a cinema. It is also the centre of night life, with many gay bars.

Evosmos is known for its sports and athletic facilities. However, its large football stadium is rather unremarkable, and lacks maintenance. There are indoor basketball and volleyball gyms as well.

Evosmos has three significant churches: Evagelismos near the square, the 18th century Agios Athanasios, and the new Three Hierarchs.

Roma (Gypsy) settlements are scattered on the outskirts of Evosmos. They have been living here for many years, and their living conditions very poor. Their camp area was made the local dumping site, a strategy to drive them out since anti-racism organizations have prevented local government from forcing them to evacuate.
---