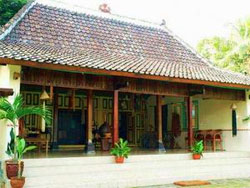 The Central Java, the third most populous province in the country, is a tourist magnet as it has all sorts of beautiful cultural and natural sites to visit. It is the island's historic, geographic and cultural heart.

The province is a mix of low and high lands, mountains and beaches. Mount Merapi towers over it, and rice fields dominate much of the region, except in Gunung Kidul, which has many limestone.
Central Java was the first Moslem kingdom on the island when discovered in 1511. Since then, much has changed but all over the province are well-preserved relics that pay tribute to its glorious past.
Christianity, Islam, Buddhism and Hinduism all contribute to the province's rich cultures. Their influence can be seen through the province's architecture and arts. Elaborate celebrations, ceremonies and noble festivals are still held today with much majesty.
There are many beautiful temples in Central Java, such as the one in Dieng Plateau, and Mendut Temple. Dieng Plateau has the oldest Hindu temples in Java. The Mendut Temples actually form part of the Borobodur complex and have statues of Lokesvara and Vajrapani.
Semarang, the province's capital, is a sleepy sea port town with beautiful views of the sea, the rice fields and mountains. Close to the harbour is an older part of the city where old buildings from the Dutch era still stand.
Another interesting place is Solo, known as the city that never sleeps, as no matter what time it is, there is always something to eat or buy. Vendors with small food falls service clients all day and all night. Here one can also find exquisite batik clothes and other ornate decorative items of good quality. A lot of old Javanese culture and art can be seen here. The homes of Kraton of Solo and the Prince of Mangkunegaran features wonderful Javanese architecture with an astounding display of heirlooms, Javanese musical instruments, masks and many other handicrafts and antiques.
Central Java has some great places for communing with nature, such as the Krakal hot springs and the Sempor Dam complete with recreational facilities. Baturaden is a fine resort that sits on the slope of Mount Slamet. It has great gardens, hot springs and ponds, and enjoys a cool air. There is also Taman Kyai Langgeg in Magelang that sprawls out for 19 hectares and is full of beautiful plants, aquariums, green house, swimming pools, a zoo, go-cart racing, canoeing and a myriad of other recreational activities to see, do and enjoy.
Semarang
The bustling city of Semarang on the north coast of Java is Central Java's provincial capital. It is extremely hot and humid at the port areas, and experiences higher temperature than the rest of Java.
More than a busy port, Semarang thrives as a business and industrial centre, with major banks, factories, and industrial parks operating.
Semarang embodies the spirit of modern Java. It retains colonial architecture and is still very traditional. It is home to many Arabs, and has a large population of Chinese.
Semarang, which caters to businessmen and entrepreneurs, is not a touristic place. But it has a vibrant commercial centre, the Simpang Lima. This is where all the business hotels, shopping malls, and freeways can be found.
Semarang has two residential suburbs: the old Candi, which is the main residential area, and Candi Baru, the new and modern area. Old Candi has been the choice of the wealthy. It is built on the hill, and adorned with lovely houses and bungalows.
---