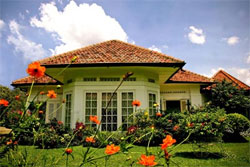 Central Jakarta (a prime area) is the smallest of the five cities of Jakarta. It is where many of Jakarta's cultural and tourist attractions can be found. The city' museums include the Adam Malik Museum, which displays cameras, art and Asian porcelain; the National Museum, which has a fine artefacts collection from around the region, stone Hindu sculptures and a great treasure room full of gold items; and Taman Prasasti, which has a collection of gravestones and statues of significant people during the Dutch occupation.

There are many shopping opportunities here. Pasar Baru, one of the oldest places in the city, has great bargains. Put up during the time of the Dutch it continues to be a busy place bustling with commerce. Textiles, sporting equipment, shoes, cameras and other electronics are common in this open market. Pasar Baru also has an Indian community.
Surabaya Street is known for vintage items. This popular flea market is full of souvenirs, art, antiques. For upscale shopping, there is the Plaza Indonesia.
Menteng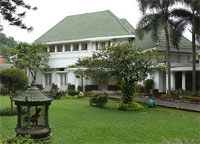 The sub-district of Menteng is an affluent residential area in Central Jakarta. This is where the wealthy and prominent members of society live, such as the diplomats and bureaucrats. It is one of the most expensive residential real estate areas in the city as it is near the central business district. Embassies are located here, as well as the home of the Indonesia President and other senior Indonesian officials.  
Being the oldest and most prestigious neighbourhood, Menteng has many luxurious houses. Developed in the 1920's, the large homes are proud mansions from the colonial era, many of which are historic landmarks already. The streets are narrow and crowded and the infrastructure is old. Yet the atmosphere is charming because of the old buildings and grandeur of the homes. Several streets are still lined by the shade of old trees.
Nearby is Lembang park, where the Lembang lake is, which is a nice picnic and lunch spot. It is visited mostly by people working in the nearby business district. Many juice and food vendors and stalls are found here. Nearby are shopping complexes: Sarinah, Menteng Plaza, Jalan Sabang and a plethora of smaller neighbourhood shops. Jalan Surabaya, the famous flea market street, displays wood carvings, jewellery, batik textiles, furniture and other old oddities for sale.
Many of the roads connecting to Central Jakarta pass through Menteng. Unfortunately, this means that the area can get heavily congested and experience major traffic jams.
North of Menteng is an area known for its assemblage of affordable hotels and food outlets.
14 Golden Triangle
The Golden Triangle in Central Jakarta has only become a neighbourhood recently, because of the growth of apartment complexes within the three major streets of Jl. Sudirman, Jl. Gatot Subroto, and Jl. Rasuna. It has become an popular location because it is close to schools and offices.
Golden Triangle does not have wide and open green spaces. Its appeal is more practical: convenience and accessibility. It is preferred by those whose lives centre on work and need quick drives or commutes from home to work and vice versa.
Bundaran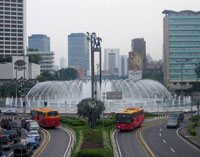 Bundaran, also known as the HI (Hotel Indonesia) Roundabout, is the busiest roundabout in Jakarta. In the centre is a 30-metre-tall monument of a man and woman holding up a flower. It was put up by the government in 1962 to welcome the visiting athletes taking part in the Asian Games. The monument is also a fountain and is a great thing to see at night. It is also a favourite meeting point for participants in demonstrations.

Around Bundaran there are 3 embassies, 3 hotels and a large shopping complex.
---