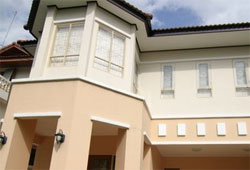 The Central Plain is home to the majority of Thailand's population. The highest concentration of people is in the metropolitan area of the capital, Bangkok.

Eastern Thailand is bordered by a mountain range in the north and faces the Gulf of Thailand in the south. The economic region known as the Eastern Seaboard is currently being developed, with infrastructure expansion and improvement playing an important part in the country's successful emerging economy. The shipping and manufacturing industries are at the forefront of economic activity, followed by the construction, tourism, and retail sectors.
Eastern Thailand is being promoted as a good retirement area for foreigners looking to settle in the country.
Prachuap khiri khan province
Prachuap Khiri Khan is a coastal province about 200 kilometres south of Bangkok. With its long coastline, the province is emerging as a top beach destination in Thailand.
Hua Hin

Hua Hin has been the Thais' favourite resort town for many years. It has a number of beautiful beaches, top golf courses, and a wide range of holiday accommodations by the Gulf of Thailand.
Hua Hin is the site of the King Rama VII's Klai Kangwon Palace, still a favourite resort of the royal family.


Pranburi Beach: Known for its array of charming boutique resort, the white-sand Pranburi Beach is also close to the Pranburi Forest Park with its pine forest and mangrove natural trails.
Hua Hin Beach: Hua Hin means "rocky head" in Thai, for the rock formations fronting the beach. It is an upscale area with private luxury beach houses, hotels and 5-star resorts. Guests can go horseback riding, kite boarding and do all sorts of water sports at Hua Hin.
Suan Son Pradiphat Beach: This is an unspoiled portion of the Hua Hin coastline with pine trees along the shore. It is a protected area and development is regulated, although there are already restaurants, a hotel and guesthouses.
Khao Takiab Beach: This beach is mainly known for the nearby hilltop temple and the macaques in residence that give it its nickname, Monkey Temple.
Khao Tao Beach: One of the quieter beaches in Hua Hin, Khao Tao has small local restaurants, a Holiday Inn and a terrain covered by pine trees.
Hat Sai Noi Beach: Hat Sai Noi is a small sandy beach facing the bay and offers a good view of the Ko Singto (Lion Island) and Ko Tao (Turtle Island).
---