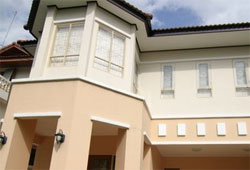 The Central Plain is home to the majority of Thailand's population. The highest concentration of people is in the metropolitan area of the capital, Bangkok.

Eastern Thailand is bordered by a mountain range in the north and faces the Gulf of Thailand in the south. The economic region known as the Eastern Seaboard is currently being developed, with infrastructure expansion and improvement playing an important part in the country's successful emerging economy. The shipping and manufacturing industries are at the forefront of economic activity, followed by the construction, tourism, and retail sectors.
Eastern Thailand is being promoted as a good retirement area for foreigners looking to settle in the country.
Prachuap khiri khan province
Prachuap Khiri Khan is a coastal province about 200 kilometres south of Bangkok. With its long coastline, the province is emerging as a top beach destination in Thailand.
Hua Hin

Hua Hin has been the Thais' favourite resort town for many years. It has a number of beautiful beaches, top golf courses, and a wide range of holiday accommodations by the Gulf of Thailand.
Hua Hin is the site of the King Rama VII's Klai Kangwon Palace, still a favourite resort of the royal family.