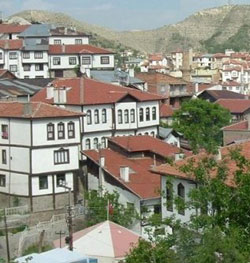 Many describe Central Anatolia as a plateau, but its physical landscape is actually more varied. Its dry highlands, basins, and vast grassy plains are much like those of Russia and Ukraine. Among the largest basins in the area are Konya Ovasi and the lands that extend to the Salt Lake or Tuz Gölü.

The region is a combination of the urban and the rural. It has areas that are densely populated and highly industrial, but there are also areas that are undeveloped and even uninhabited.
Among the most industrialized parts of Central Anatolia is the province of Ankara, which includes Turkey's capital, Ankara City. As Turkey's most important commercial hub, Ankara has many shopping and leisure areas, and open spaces such as plazas, parks and gardens. It is also Turkey's political centre and houses all of the foreign embassies in the country and most of the government agencies. And since it is in the heart of the country where highways and railway networks meet, it is also the centre for agricultural trade and tourism.
Another potential investment hotspot is Cappadocia. A familiar name in history, the area has attracted much attention because of its unique moon-like landscape, interesting rock formations, ancient underground cities, and old churches and houses carved into cliffsides. There is also Ürgüp, a district of Nevşehir province that is famous for its upscale hotels, vivacious nightlife, and the historic hamam, or Turkish bath.
 
Those interested in experiencing more traditional Turkish lifestyles can explore the norhern provinces. Sleepy communities by the rivers are often isolated during severe snow storms. Their main activity is growing crops like wheat, beans, chickpeas, and potatoes.
Because of the extreme heat and lack of rain during summer, the yield is irregular and many locals turn to animal husbandry as their alternative economic source.
Ankara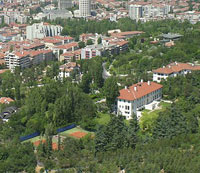 Ankara became Turkey's seat of government in 1923, when Atatürk, the first president of the Republic, moved here. While it does not have the historic allure of Turkey's greatest city, Istanbul, it still boasts three prominent monuments: the Victory Monument honouring the heroes of the War of Independence, the Hatti Monument that reminds the country of its Anatolian beginnings, and Güven Park's Monument to a Secure Confident Future, famous for Atatürk's words, "Be proud, hardworking, and believe in yourself."
Ankara offers a European atmosphere with traces of Eastern charm. It is a huge university town with large student and communities. Kızılay, the heart of Ankara's central metropolitan district of Çankaya, is particularly popular with students, who crowd its many bookshops, cafés and bars.
Ankara is home to numerous government offices and military wings. Many of the embassies and consulates here are in the suburb of Gaziosmanpaşa near the city centre. Ankara's largest mosque is on Kocatepe Hill.
Tourism is not huge in Ankara, and most foreigners come here on business. However, many accommodations and tourism-related services have sprung up in the city.
Cankaya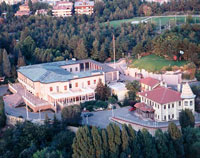 Çankaya is the heart of Ankara, Turkey's capital. The metropolitan district functions as the seat of government. The presidential residence, many embassies and ambassadorial residences, and government buildings are located here.

Early Ottoman-style buildings can still be found in Çankaya, though many impressive modern structures have also sprung up. Old and new buildings house museums, theatres, libraries, publishing houses, and bookshops. School buildings and private institutions such as the private-owned Çankaya University are also here.
The centre of Çankaya is Kızılay, where most people go for school, work, or shopping. The district's main avenue has also long been the site of public demonstrations and protests.
On a normal weekday, the street bustles with activity. Shops and cafés are always crowded, and hawkers take over the pavements. Evenings are not spared as students swarm the streets going to and from night classes.
Çankaya has many prominent neighbourhoods. The Turkish Parliament building and several ministry offices are in Bakanlıklar, along with a large commercial area full of shops. Anıttepe has public buildings, housing for retired military officers, parks, shops, and sports facilities.
Bahçelievler, which means "garden houses", is a popular students' hangout with its  shopping centres, restaurants, bars, fast food outlets, cafés the Turkish National Library and the Ankara Ice Palace. Young people also gravitate towards the residential Cebeci, the site of Ankara University's Political Sciences, Law and Education campus.
There are cafés along the length of the Kumrular Sokak, one of Ankara's loveliest streets, and bars and restaurants along Sakarya Caddesi. The cinemas and cafés of Kızılırmak Sokak are often full of students unwinding after class.
Keklikpınarı is a hilltop neighbourhood that enjoys lovely views of the city and cool breezes. Karakusunlar lies on a steep slope and has many apartment buildings.
The quiet neighbourhoods of Küçükesat and Mebusevleri have modest houses and stores. Öveçler is a mixed residential and business area, with the offices of IT companies located here.
The capital's busiest shopping street, Tunalı Hilmi Caddesi, runs through the upscale neighbourhood of Kavaklıdere. One will find bars, cafés, patisseries, fast food outlets, bookshops and cinemas along the avenue. The lovely Kuğulu Park and the luxurious Sheraton Hotel are here.
Oran Sitesi is another upscale area, the residence of choice for many political bigwigs because some parliament offices are also here, as well as Turkey's broadcasting giant and fine restaurants.
The posh hilltop district of Gazi Osman Paşa overlooks the city centre. In sharp contrast is the gecekondu (shantytown) of Kırkkonaklar behind it. Another gecekondu, Çukurambar, is being gentrified with new apartment buildings. It is home to the Foreign Ministry and the Atatürk Forest Farm and Zoo.
There are low-rise apartment blocks in Ayrancı and Bağcılar. Low-price apartment buildings can be found in Balgat, as well as important government office and military headquarters.
Yıl Sitesi's public housing blocks have been the home of factory employees for years, but students from the nearby university are also beginning to choose them for the low rent and proximity to the campus.
Old, rundown Maltepe has seedy nightclubs and a black market in pirated DVDs and software.
Safranbolu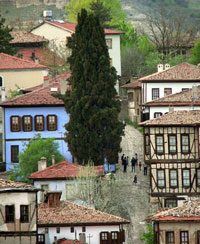 Stepping into Safranbolu is like stepping back in time. Ottoman konaks (mansions), humble half-timbred houses, and quaint artisan shops line narrow, cobblestoned pedestrian streets. Mosques, inns, and hamams (baths) are everywhere. A clock tower stands in the city centre.

The town was an important East-West caravan trade route from the 13th to the early 20th centuries. It reached its glorious peak in the 17th century, influencing other Ottoman territories.
For its rich history and authenticity, Safranbolu was declared a UNESCO World Heritage Site. Many of the old buildings are literally crumbling, but significant restoration is taking place. Some konaks have become hotels, while smaller houses have been converted into shops and restaurants, while tastefully retaining their original charm.
Safranbolu is also proud of the 13th century Süleyman Pasha Medrese, the still-operating 17th century bath Cinci Hamam, and the 19th century Kaymakamlar Evi Museum, once the house of the sub-governor.
Konya Province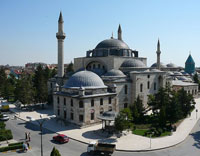 The province of Konya in the Central Anatolia is steeped in religious history, and remains very conservative today.
Konya is home to the world-famous Whirling Dervishes. They belong to the Mevlevilik, a mystic Islamic order founded in 13th century by the poet and philosopher Rumi. These whirling dances are a form of dhikr, or "remembrance of God". They have become as much a distinctive cultural rite as a religious one, and tourists are allowed to watch performances. The Mevlâna Museum is among Konya's most visited sites.
The capital city Konya was the Anatolian Seljuk's seat of government for more than 200 years, and many of its architectural monuments belong to the period. The city, though, has urban now, with modern buildings towering over the older ones.
---