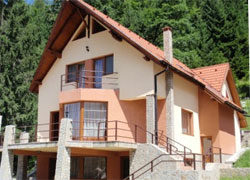 Though considered one of Romania's most urbanized regions, the Central Region doesn't feel overpopulated. Most towns are small, with populations below 20,000. Even the main cities (such as Braşov and Târgu Mures) only have around 100,000 to 200,000 residents. Roma dominate the area, followed by Hungarians, Germans and Romanians.

The terrain is beautiful and rustic. The glacial lakes in the Făgăraş Mountains, including the Santa Ana volcanic lake in the peaks of Harghita, are part of the striking panorama.
The region sits directly on the plateaus of the Carpathian Mountains, benefiting much from the topography's hidden natural reserves of non-ferrous metals, marble, basalt, coal and even mineral water. Mining has allowed the region's economy to prosper.
Brasov
Braşov County, surrounded by the Carpathian Mountains, has been highly industrialized since the Communist era, and some large industrial complexes still stand today. The villages though retain a rural charm and fine examples of folk art and local craftsmanship in their egg painting, pottery, and sheepskin coat making.
The county's capital is also called Braşov. Tourists are lured by the city's medieval glory and enjoy day trips to its castles and villages in the mountains.
The town of Bran is very charming, with rolling hills and pasturelands. Guesthouses welcome visitors who want to sample traditional dishes and homemade cheeses in an idyllic rural setting.
The town of Fagaras has a large 14th century fortress. Locals and tourists go hiking and do other outdoor pursuits in the Făgăraş Massif.
Braşov's real estate development has flourished in the past few years. Residential units include renovated old houses, new villas, and old and new apartments. Large developments are constructed in Tampa, Tractorul, Stupini, and Bartolomeu. Tampa Gardens, Fontana Residence, Braşov Garden and Avantgarden are some of the sought-after residential complexes in the county.
Brasov City
Braşov City is one of the most popular tourist destinations in Romania. It has fine views of the Southern Carpathians and its buildings boast a wealth of architectural styles, from Gothic to Baroque to Renaissance.
The historic city, a favourite setting for period films, was founded by the Teutonic Knights in the 12th century. It has remnants of its medieval past, from the stone walls around it to its townhouses, churches, cobbled streets and tiny alleyways. These are now interspersed with modern bars, open-air cafés, pizza places and restaurants. Pastel-coloured houses and buildings are German additions erected in the 1800s.
Famous in Braşov is the 4-foot wide Strada Sforii (Rope Street), said to be the narrowest street in Europe. Another interesting sight is the Black Church, partly destroyed and charred by the 1689 Great Fire, hence its name. It is the largest Gothic church in the country.
At the centre of Braşov is Tampa Mountain, a nature reserve. Surrounding the city are traditional villages, fields, and thick forests.
Poiana Braşov at the foot of the Carpathian Mountains is the most popular winter resort in Romania.
Poiana Brasov
Poiana Braşov is Romania's most famous ski resort, beautifully surrounded by pine forests at the foot of the Carpathian Mountains. The resort has 9 ski slopes, 2 cable cars, 8 ski lifts, and other modern winter sports facilities. Many of its hotels, nightclubs, bars, and restaurants are designed for tourists. It is frequented by visitors from all over Europe, particularly French, Italians, Germans and Swiss vacationers.
There are holiday homes available near Poiana Braşov.
Tampa
Tampa Mountain lies in the middle of Braşov. In fact, Braşov City surrounds almost the entire mountain, which has a large "BRAŞOV" sign across it reminiscent of the Hollywood sign.
The mountain is a protected natural reserve with many winding paths and hiking trails leading to its summit, which has a magnificent view of the city and surrounding mountains.
Situated on the base of the mountain is Tampa Gardens, a residential complex with consisting of three buildings with a total of 407 units. These range from 1- to 5-bedroom units. The complex has green open spaces, a restaurant, a shopping centre, a playground, a kindergarten, a gym, and an indoor swimming pool.
Not far from it is Fontana Braşov, a large complex with 1,800 apartments. In the northern area, two large residential assemblies named Avantgarden are being developed. Avantgarden I consists of 320 modern flats. Avantgarden II is currently encouraging investments.
Tractorul
The neighbourhood of Tractorul is experiencing rapid real estate development. Bronzolui Street has easy access to the city centre, making the area a fast-developing residential zone. Upscale apartments and a villa project consisting of 96 duplexes are being constructed here.
Right at the centre of the former Communist industrial park is the new residential quarter Braşov Garden. It has affordable rates for middle- to lower-income buyers.
There are other projects set for Tractorul, such as a 120-hectare retail park which includes a large shopping centre, a hypermarket, a furniture shop, a sports gear store, and a DIY centre.
Mures
Mures is a county dominated by plains and the hills of the Carpathian and Gurghiu Mountains. The Mures River flows through it.
The upper Mures Valley is known for its woodworking and folk traditions that thrive in communities such as Brancovenesti, Deda, Ideciu Bai, Lunca Bradului, and Suseni.
Mures' administrative centre is Târgu Mureş. Its centre is a colourful mix of tiled roof buildings and distinctive monuments. Its main square, the Piaţa Trandafirilor (Rose Square) is lined with monuments, churches, restaurants and cafés. The city's heart is the beautiful Palace of Culture. Constructed in the Transylvanian Secession style, it houses museums and has beautiful windows of stained glass.
Across the Tarnave hills from Târgu Mureş is Sighişoara. Once a medieval fortress town known as Castrum Sex, it is now more famous for being the hometown of Vlad the Impaler, the 15th century prince of Wallachia who inspired Bram Stoker's Dracula. The notoriety of Sighişoara's most famous resident, and that of the famous vampire he inspired, is one of the main reasons why this small, charming town is perhaps the most visited place in Romania.
Sovata is an all-season balneal-climacteric resort. Its heliothermal lakes and climate are famous for the efficient treatment of various diseases.
Sighisoara
Sighişoara is one of the most beautifully preserved medieval towns in Romania, and even in all of Europe.  It is also the birthplace of Dracula himself—or at least of Vlad Dracula, also known as Vlad the Impaler, the notorious Wallachian prince who inspired the famous fictional vampire.
The 16th century town is a charming maze of old townhouses, churches, guild towers, secluded squares, staircases, and cobbled streets and alleyways. Modern additions here are hotels, sidewalk cafés, restaurants, and brightly painted houses. Hills, forests, pasturelands and traditional villages surround the town.
In medieval times, Sighişoara was a citadel known as Castrum Sex. It is now a UNESCO World Heritage site because of its well-preserved medieval architecture and its importance as a strategic and commercial point in Transylvania.
---