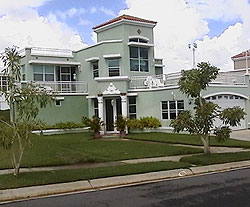 The coastal town of Ceiba was once so isolated that the residents had to travel to faraway districts just to buy meat. The locals are known as "Los Sin Sopa" ("those without soup"). However, the Atlantic Coast bordering Ceiba is an excellent fishing ground for blue marlin.

A former sugarcane producer, Ceiba has relics from old plantations on display in the City Hall.
Ceiba is the hometown of key Puerto Rican personages, among them former Lady San Juan Mayor Felisa Rincon de Gautier, who was lovingly known as "La Mujer de las Americas" ("Woman of the Americas"), actor Luis Vigoreaux, and former IBF World Junior Middle Boxing Champion Carlos Santos.
---