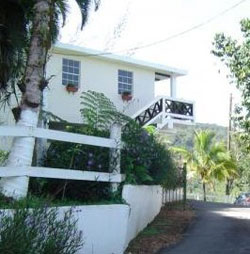 The valley where Cayey is located is surrounded by two mountain ranges, the Cordillera Central and La Sierra de Cayey. The town is also known as the City of Fog.
It certainly is not surprising that Cayey's main natural attractions are related to the mountains, such as La Tetas de Cayey, twin peaks formed by volcanic activity, and named thus because of their resemblance to a woman's breasts.

Cayey's high altitude makes it the ideal site for two major broadcasting towers, Telemundo WKAQ TV Tower and Cayey Pegasus Broadcasting Tower.
Other places of interest include the University of Puerto Rico-Cayey, the only liberal arts college in the country and a leader in the field of women's studies.
---