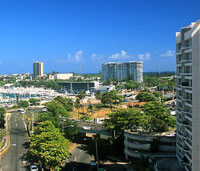 Cataño (a prime area) is the smallest municipality of Puerto Rico. It is situated directly across the San Juan Bay from the capital city of San Juan and is nicknamed "The Vestibule of the Capital".

Of all the cities in Puerto Rico's Metropolitan area (of which San Juan, Bayamon, Caguas and Guaynabo are a part), it is Cataño that has clung tightly to its cultural heritage. This is apparent in its tourist attraction, such as the old locomotive that was used for sugarcane transport. It still runs through the city, making a stop at the residential neighbourhood of Levittown in Toa Baja.

The city's famous boardwalk offers scenic views of the bay and the old El Morro Fort across it. Monuments and sculptures add a primitive charm to Tablado. One of these statuaries is India Taina, a monument to the Taino people.
The most famous landmark in Cataño is the Bacardi Rum Distillery. Visitors to the distillery are brought to the Casa Bacardi Visitors Centre, a tour of which includes exhibits explaining the fermentation, distillation and bottling processes that have made Bacardi famous. The annual Feria Bacardi showcases the talents of Puerto Rico's artisans.
---