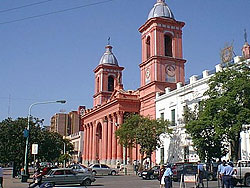 Catamarca has the nation's smallest economy. It has considerable woods and vineyards, and its main agricultural products are olives, citrus fruits, cotton and tobacco. It has a burgeoning tourism industry thanks to its location by the mountains and geological formations of Antofagasta de la Sierra, Balcones del Valle, the snow-covered Aconquija, and the Pass of San Francisco.

Catamarca is not the least developed region in the country, although efforts to boost its economy still leave much to be desired. The lack of infrastructure and service-oriented businesses and a culture of corruption have contributed to this city's slow development.
Nevertheless, the province is known for its local cultural attractions such as the historic trail Las Huellas del Inca, petroglyphs, local music, wine, and handicrafts.
San Fernando del Valle de Catamarca
The capital city of Catamarca is an agricultural area—cotton fields, fruit orchards and vineyards dot the city and the lands surrounding it, and cattle raising is a major livelihood.
The city's red-roofed colonial buildings are paired with the pink stone and columns of the 19th century Catedral Basilica de Nuestra Senora del Valle, which is the home of the statue of the province's patron, the Virgen del Valle.
Fiambala
The mountain town of Fiambalá has plenty to attract tourists—old adobe buildings (including the Iglesia San Pedro, an early 18th century church), large vineyards, hot mineral waters, the excellent craftsmanship of local artisans.
Fiambalá's dusty roads hosted a leg of the Dakar Rally in 2009.
---