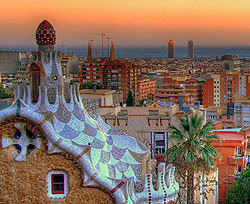 Blessed with both natural beauty and cultural treasures, Catalonia draws people from all over the world. It is divided into four provinces: Barcelona, Girona, Lleida, and Tarragona.

Barcelona is Catalonia's capital (and a major tourist destination). Catalonia's beaches and ski resorts also draw tourists, while other visitors flock to its historic towns and archeological sites.
The region's landscape is hilly and green in the north, and level in the agricultural west. There are beaches in the east. The mountains of the Pyrenees mark where Catalonia borders France.
Catalonia's coast is known as the Costa Dorada (Golden Coast). It enjoys a Mediterranean climate, while inland Catalonia has a more Continental Mediterranean climate. Up in the Pyreneean peaks it is much colder, with frequent snow in winter. Summers are hot and humid, with hardly any rain on the coast, but very rainy in the Pyreneean valleys.
Although Spanish is widely spoken, the region's language is Catalan, which is heavily emphasized in schools and in general public use. Catalan is used for all signs. However, other languages are frequently used, and locals will generally address foreign visitors in Spanish or English.
Catalans are proud of their identity, and a significant number consider Catalonia to be a nation unto itself, distinct from Spain. However, the actual cultural differences, other than language and a tendency to be hard-working, are hardly noticeable to most foreigners.
---