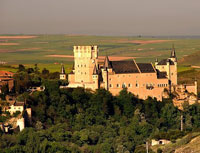 Architectural treasures abound in Castile and León, which covers most of northern Spain. Nearly every town boasts gracious old churches. Castile & León's population of 2.5 million is spread through nine provinces dripping with history: Segovia, Avila, Soria, Burgos, Palencia, Valladolid, Leon, Zamora, and Salamanca.
Segovia has the best surviving example of a Roman aqueduct. Segovia is also where the superb Moorish fortress Alcazar is located. Burgos, known for being the birthplace of El Cid, has many fine medieval and Renaissance palaces in its Old Quarter.
Avila, birthplace of St. Teresa, has well-preserved medieval walls. Avila also has such architectural sights as the Basilica of St. Vincent and the Romanesque cathedral.
The town of Soria is known for its Romanesque buildings, like the Church of Santo Domingo. Other towns with a strong medieval atmosphere include Palencia and Zamora.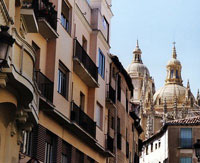 Leon, the former capital of the province of Leon, is rich in architectural attractions. These include the Gothic cathedral, the medieval-era Royal Basilica of San Isidro, and the Renaissance-style San Marcos Convent.
Valladolid is Castile and León's capital. It is known for the solemn beauty of its Holy Week celebrations, and it has beautiful gardens and many architectural treasures. Valladolid has an excellent Sculpture Museum, containing works from the great Spanish sculptors of the 1700s and 1800s.
Salamanca is considered one of the most spectacular Renaissance cities in Europe, with golden the sandstone buildings that have given Salamanca the nickname La Ciudad Dorada. The 18th century Plaza Mayor is regarded one of the finest squares in Spain. The Romanesque cathedral is next to an adjoining 'new'cathedral which combines late gothic and renaissance. The university, founded in 1218, is arguable Europe's oldest.
The River Duero runs through the region, which is mostly a plateau completely surrounded by mountains, with scenic, if rather flat, countryside. Due to its high altitude, Castile & León's winters are long and cold, its summers hot but brief.
---