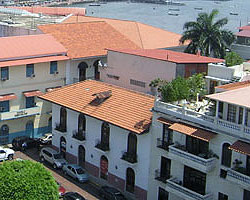 The area of San Felipe, more commonly known as Casco Viejo, is the oldest city on the Americas - Pacific Coast. Because of its wealth of historical structures, Casco Viejo is a tourist destination

Casco Viejo is one of the most charming areas of the city, with colonial architecture and balconied, narrow cobbled streets. Much of the architecture that was once left to fade has recently been restored, and with excellent results. It attracts a lot of tourists, but there is also strong demand from among the city's fashionable elite, turning the area into one of the country's most fashionable pieces of real estate. There are palaces, parks and spectacular harbourside views.
Squeezed between the Panama Canal and Panama City, the buildings in this neighbourhood are testaments to Spanish rule, such as the Church of San Francisco, El Teatro Nacional, and Colegio Bolivar. Every visitor should see the Catedral Metropolitan, a behemoth that illustrates the power of the Spanish.
---