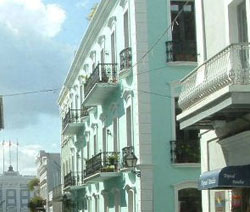 The city of Carolina (a prime area) is known by two colourful nicknames: "Land of Giants", which refers to one of its former residents, Don Felipe Birriel, whose unconfirmed height was 7 feet and 11 inches; and  " Town of the Arm Hackers", because rather than resolve conflicts through violent means, the locals are said to engage in arm wrestling matches instead.

Once an important sugar producer, Carolina is now considered the industrial capital of Puerto Rico because it has the greatest number of factories. It also has Puerto Rico's main airport, the Luis Muñoz Marin International Airport.

The only other place of interest in the city is Ciudad Deportivo Roberto Clemente, a recreational park built in honour of Roberto Clemente, the star right fielder of the baseball team Pittsburgh Pirates. World Series-winning Clemente was the first Puerto Rican to be honoured in the Hall of Fame in 1973, given posthumously after Clemente died in an air crash while delivering aid to earthquake victims in Nicaragua.
Isla Verde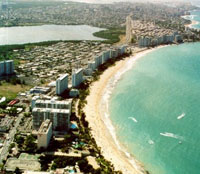 Isla Verde is the affluent district of Carolina. Because it is also a tourist zone, there are a number of hotels, nightspots and casinos in the area. It also has the Luis Muñoz Marin International Airport. A community of Cuban exiles has made their home here, centred in the vicinity of the popular Casa Cuba and El Metropol Restaurant.

There are many mansions in this posh district. Some famous Puerto Ricans have either made their homes or have businesses in Isla Verde. Former residents include members of the popular Puerto Rican boy band Menudo. Former world boxing champion Wilfredo Gomez owned a discotheque shaped like a flying saucer in the area.
While there have been concerns about security because of Isla Verde's close proximity to Luis Llorens Torres—Puerto Rico's largest public housing project, where crime rates are high—the community is actually very safe, thanks to Carolina's autonomous police department.
Although traffic is free and easy most of the time in Isla Verde, residents complain about the way major streets are closed off for welcoming celebrations when dignitaries and other famous personages arrive from the airport.
---