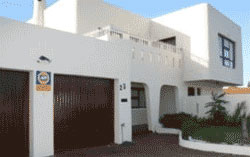 Cape Flats is a large area of wind-blown, sandy, flat land located on the outskirts of Cape Town. It also contains an extensive wetland and is home to unique and endangered strandveld vegetation.

During a bleak time in the apartheid era, thousands of non-white families were forced to move here as a result of the Group Areas Act, and the place was aptly described as a 'dumping ground of apartheid'. Today, it is home to over a million people who live in informal settlements and communities in tin and wood shacks.
Despite its history and the harsh conditions, Cape Flats still exudes a unique vibe—one that emerged as communities sprang up here, populated by those who have learned to make the best out of a bad situation. When tourists talk about the 'Cape sense of humor', they refer to the ability of the locals to see the brighter side of every situation. Cape Flats is the origin of Cape Town's soul—art, crafts, music, and entrepreneurship abound and showcase this region in a positive light.
Manenberg
The suburb of Manenberg in the Cape Flats was established during the apartheid regime for low-income black families. Residents live in standardized flats and semi-detached homes in this overcrowded, poverty-stricken township. Crimes and gangster activities are prevalent on the streets, and unemployment rate is very high.
Despite this, Manenberg is home to a famous nightclub, Club Montreal, which has hosted celebrated Cape jazz performer Tony Schilder. It is also hard to miss the many graffiti on Manenberg's walls paying tribute to the late rap star Tupac Shakur.
Community projects have been carried out to uplift the living conditions of Manenberg's residents and get rid of the stigma attached to the neighbourhood.
Gugulethu
Gugulethu is one of the oldest townships in South Africa. It is located just outside Cape Town, near the international airport.
Poverty, violence, and disease are widespread here. Most people live in old tin shacks, while those with more money built brick and mortar houses. But thanks to Gugulethu's openness to tourism, it is quickly developing and being recognized for its unique offerings.
One of the township's highlights is the Gugulethu Seven Memorial, commemorating seven young black anti-apartheid activists who were killed by security forces here in 1986. The figures are carved out of thick granite slabs, each figure given a dramatic pose.
Gugulethu's most famous establishment is Mzoli's Place, a restaurant that offers simple but very delicious meat dishes. It is patronized by Gugulethu residents, local celebrities, and international tourists. It is an informal place. Customers go straight to the butcher to pick the meat they want cooked or grilled. They can bring their own drinks or buy from the nearby stores, and even set up their own table and chairs outside. Sometimes a DJ or a jazz player sets up a stand nearby to provide entertainment.
---