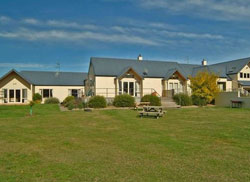 Canterbury is New Zealand's largest administrative region at 42,200 square kilometres in size, and is the second largest in population.

Like the other regions of South Island, Canterbury is predominantly mountainous. It has two well-known protected areas. Arthur's Pass National Park is in the Southern Alps and is named after the highest pass in the mountains. Aoraki/Mount Cook National Park is another protected reserve with a multitude of peaks, chief among them Mount Cook, the highest mountain in New Zealand. The area's awesome panoramic vista of the ocean, the mountains, the sky and the verdant pasturelands is best appreciated through a hot balloon ride from the town of Methven.
 In the centre of the South Island is the beautiful, turquoise-coloured Tekapo Lake in the highlands.
Kaikoura is a paradise for nature lovers. Aside from its scenic vistas of mountains meeting the sea, it is here that one will encounter colonies of fur seals, the very rare Hector's dolphins, and even sperm whales in the sea. The towna of Hanmer Springs grew up around the therapeutic waters of the area's hot pools, and has become a popular tourist destination.
Also a wine-producing region, Canterbury is famous for its Riesling, Sauvignon Blanc, Chardonnay, Gewürztraminer, and Pinot.
Christchurch City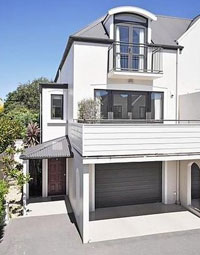 The city of Christchurch is world-renowned for its lavish parks and gardens, and was named "the Garden City of the World" in an international competition in 1996. It is the gateway to the South Island, situated on the coast, with a harbour and an international airport.

Christchurch is of historic significance because it is here in 1893 that New Zealand women won the right to vote.
The city has been the venue of international sporting events, thanks to acclaimed sporting facilities like the Westpac Centre and Queen Elizabeth II Park.
Lyttelton Harbour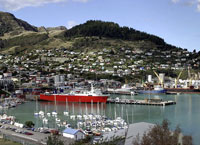 The scenic harbour of Lyttelton is an important export and import gateway. It is also the docking point of many cruise ships carrying visitors to the Canterbury Region.

Situated in the harbour are the little islands of Quail, Ripapa, and King Billy.
---