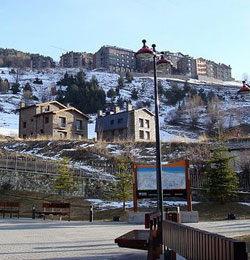 Canillo is Andorra's biggest parróquia, and is divided into the towns of Canillo, Soldeu, El Tarter, Ransol, Prats, Meritxell, and Molleres.

Canillo has a cold, dry climate, and is full of forested areas and snow-capped, open mountain ranges. Long winters are never dull with all the great ski slopes to enjoy around Canillo (the Grandvalira ski area is partly located here). Adding to the local flavour of the region are traditional Andorran mountain houses called bordas, and historic churches and chapels that date as far back as the 11th century.
The villages of Soldeu and El Tarter have long been favourites among skiing and snowboarding Spanish, French, and British tourists, who hit the slopes during the day and enjoy the active pulse of the town's bars and pubs in the evening. Soldeu, the bigger village of the two, is a good place for families with children. There are small supermarkets within walking distance in the village, which aslo has a renowned ski school for beginners.
El Tarter has a similar vibe to Soldeu. But even though it has been growing steadily in the last few years, it still remains a quiet and rustic winter retreat.
Canillo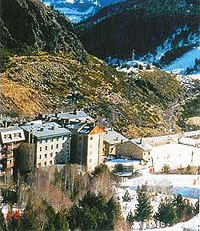 The town of Canillo borders Grandvalira, Andorra's premier ski area. It has natural attractions of its own—the beautiful lakes, hillsides and forests, the mountain streams burbling through the town between quaint stone houses with wooden balconies.

Canillo's main landmark is the church and its tall clock tower. The village is also a great place to shop for native handicrafts in the marketplace. A popular meeting place of tourists and expats in Canillo is El Molí Vell ("old mill").
Soldeu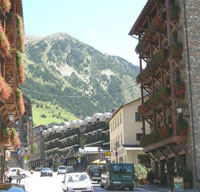 Soldeu is the heart of the Grandvalira ski area and Andorra's top ski village. It has many luxury hotels and lodges, clubs, fine restaurants and bars, boutiques and ski and snowboard shops, and a renowned ski school.

English is widely spoken here, thanks to the number of British and Irish tourists and expatriates staying at Soldeu all year round.

While it is a great starting point for summer activities in the warmer months, winter is when Soldeu really shines. It has some of the best slopes in the area; this is where skiing in the Pyrenees began, more than 80 years ago. Soldeu continues to be a draw for snowboarders and skiers of all proficiency levels thanks to their family-friendly facilities and beautiful slopes.
El Tarter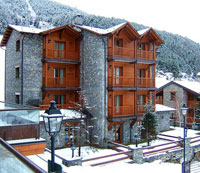 Quieter than neighbouring tourist magnets Soldeu and Pas de la Casa, El Tarter draws visitors to with its fine hotels and lodges, its lovely scenery and its quieter atmosphere. There is easy access to the slopes from the lodgings; there are also restaurants and bars nearby. El Tarter also has a fine medical centre.
---