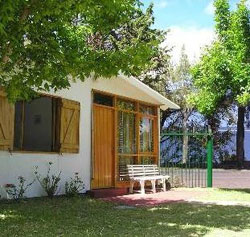 The southern department of Canelones is the hub of trade and communication between the capital city of Montevideo and the interior of the country. It is also the main entry point for tourists to Montevideo and the rest of Uruguay, as it has the busy Carrasco International Airport.

Originally mainly an agro-industrial region because its flat plains are fed by the waters from the Santa Lucia River and its many lakes and reservoirs, Canelones has been transformed into a metropolitan area for the active trading of agricultural products from other parts of the country.
Canelones' leading industries are textile manufacturing, tanneries, and metallurgy. The department also has refrigeration facilities which serve half of the country's meat freezing needs.
Canelones' famous Canarias wine vaults have produced award-winning vintages.
Canelones City
Canelones City is the capital of the Canelones Department. It has several historical sites and picturesque beaches.
Famous historical landmarks in Canelones include the Palacio Lacueva, an Italian-style residence built in 1866 by the Lacueva family that was a favourite summer house of noted 19th century politicians Jacobo and José Pedro Varela. It is presently the site of the Technical School of the Universidad del Trabajo del Uruguay. Parque Bulevar Batlle y Ordoñez is home to the Ruta del Éxodo, the site where General José Artigas and his men gathered before crossing the Santa Lucia River on the way to San José to fight for the country's independence. The Iglesia San Juan Bautista was the site of one of the major defeats of Artigas' armies.
Popular places for sightseeing and recreation in Canelones include the Parque del Plata, the sights of Atlántida, and the Playa Villa Argentina.
Overlooking the coast not too far from the Playa Villa Argentina is the quirky structure known as El Aguila, a building in the form of a giant eagle's head. It had been built by a millionaire in the 1940s and is now open to the public.
La Floresta City
La Floresta City is along the Costa de Oro of the Canelones Department.
The brainchild of Miguel Perea, a lawyer and one of Uruguay's richest citizens, La Floresta began as a reforestation project in 1909 with the planting of pine and eucalyptus trees. In this lush natural landscape, urban development was initiated in 1911 with the building of a resort, houses and the famous Hotel La Floresta. Property prices are quite affordable here.
The city is home to the Liga de Fomento de La Floresta, an art and culture group that runs the world-renowned exhibition and competition called the International Biennial Encounter of Sculptures.
---