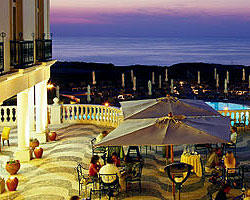 Built in the 17th century, the quiet gentility of these neighbourhoods has long been favoured by Lisbon's wealthiest families. Campo de Ourique is famous as the place where the Portuguese poet Fernando Pessoa lived out his final years, on Rua Coelho da Rocha.

The neighbourhood's residential area is dominated by stately mansions and villas, with some of the city's most expensive property. Towards the northern end is the business district of Amoreiras/Campolide, where the turret-shaped Amoreiras Towers are an odd, and not exactly popular, sight dominating the city's skyline. Despite the reaction to their appearance, the towers are a hugely successful shopping mall-apartment-office complex.
To get away from the clangour and the crowds, one can try the Jardim das Amoreiras on the Rua das Amoreiras, a perfect place to enjoy a moment or two of serenity. In the sprawling Prazeres Cemetery, the rustle of tall cypress trees is often the only sound that can be heard.

Nearby Alcantara, with its docks along the Tagus River, pulses with a vibrant night scene that has attracted the attention of elite Lisbon partygoers. Former warehouses have been transformed into fashionable clubs, bars, and restaurants, while other areas have taken advantage of its central locality (it is easy to get to the city centre and Belem from here) and loft developments have sprung up. Residential areas within the neighbourhood are a mix of traditional houses, new flats and dockside conversions.
---