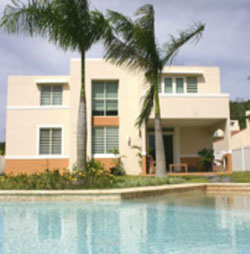 Caguas benefited greatly from being the base of a major sugar manufacturer, which provided employment to the residents in the early decades of the 20th century. In 2005, the town levied its first municipal tax, which has brought approximately $500,000 in monthly income to Caguas.

The most notable of Caguas' buildings are the 23-storey Caguas Tower apartments and its nearby competitor Bonneville Apartments. The city is also the site of towering antennas that send signals to major TV stations, like Telemundo and Univision.
Despite its modernization, the town still boasts of attractions with historical and cultural significance. These include the Caguas Historical Museum, the Hacienda Catalina Ruins, and La The House of Chess. The Museo del Tabaco Herminio Torres Grillo offers demonstrations on how to make hand-rolled cigars.
The Catedral Dulce Nombre de Jesus in the town plaza is the burial place of Carlos Manuel "Charlie" Rodriguez, the first Puerto Rican to be beatified.
---